Pictures of Sheds
From Our Customers
...with their testimonials

Here are some pictures of sheds built from our storage shed plans.
It's interesting to see variations of the shed plans we have sold. It just goes to show you that you can modify our plans and blueprints to accomodate whatever special needs you may have.
---
| | |
| --- | --- |
| Jason's 10x12 Barn Shed | Jason build this awesome 10x12 barn shed with metal roof and vinyl siding.  He also added a few windows and pre-hung double doors. |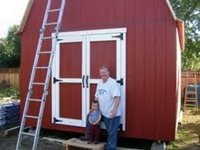 Rods 12x16 Barn Shed
Rod built this 12x16 barn shed while coming home from the Middle East. Rod is standing in front of the shed with a little boy they take care of.. (Ross) who was so impressed by the event he's been running around hammering nails into whatever he has the strength for: foam, pumkins ect.
Yes, in spite of a few mistakes I deemed 'minor'... at the end of the day I was very proud and felt I had completed a major accomplishment.
Well, thanks a lot.
Sincerely,
Rod

Here's the pictures Rod emailed to me of his project.
---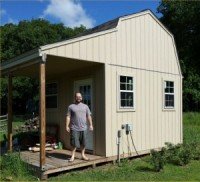 Davids Barn Shed with Porch
Here's a barn shed with porch built by David. He actually purchased 3 of my shed plans and incorporated bits and pieces from each one to build this neat shed.
Read more about Davids barn shed and his outstanding testimonial about the plans he bought from shedking.
---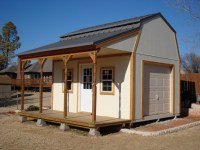 12x16 Barn with Porch
John Miller sent me pictures of the 12x16 barn with porch plans and the job he did was absolutely fantastic. He added a metal roof, pre-hung side door, and windows on either side of the entry door.
This project is going to be used for his workshop and various storage needs that he has. The loft area in this barn is great for any storage needs you might have.

Read John's comments and see more pictures of his barn shed.

Plans for this barn can be found here.
---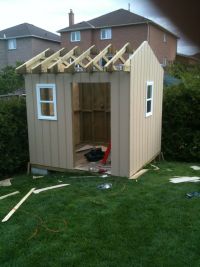 8x8 Saltbox Shed from Shawn in Canada
This is a smaller version of our 12' long x 8' wide saltbox shed plans built by Shawn.
He did a great job in modifying the plans to build a smaller version to suit his needs. Shawn is from Canada and because of the heavy snow loads he has spaced the roof trusses every 16" instead of the 24" called for in the plans. Good planning and Nice looking shed Shawn!

Here's what Shawn had to say about the saltbox plans he purchased here at shedking:

Hi John,

Your plans were very helpful, to be honest the only thing that I found could have been clearer is the diagram on the roof truss angles. I ended up drawing the truss in CAD, using your angles as a starting point and getting the remaining angles from CAD. (this has been updated and made clearer on our plans!)
Who knows, maybe I put to much thought into it, however your plans did help me very much, and your willingness to answer questions was much appreciated.

Good luck with future plans and with your website, I always find it interesting to see others business ideas as the Internet sure has made sharing information easier

All the best,

Shawn, Ontario, Canada
---
I bow to the Shed King...All I have to say is THANK YOU!!!
I purchased your plans online to build an 8x12 salt box shed about 3 weeks ago. My wife and I just had our first child and we only have a one car garage and we accumulated a ton of baby stuff so my stuff had to find a place to go, so i needed a shed.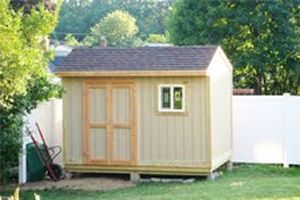 12x8 Saltbox Shed
from Jason
I convinced my wife that it would be cheaper building one than buying one at Home depot or Lowes. I was half telling the truth. Lowes has an 8x12 salt box, but it is build with 2x4" floor and 2x3 wall studs and I wanted something a bit more robust.
I am 90% done with building the shed and with upgrades such as 3/4" ply floor and roof and 2x6 platform, I am all in $1,236...Not bad I think...
Not to mention that your plans made it so easy for the weekend warrior that I am. I can do the basic and have done all the work on my home but never took on a ground up construction project such as this one. 
With a little thought and making sure that you read through your instructions a few times, this project was the coolest and most fun I've had with construction yet.

Getting a ton of complements as well from the neighborhood.

Here are a few pics. Will send more after it is all done and painted...

Best $6.00 I ever spent.

Thanks again,

Jason
---
Scott's 12x16 Gambrel Shed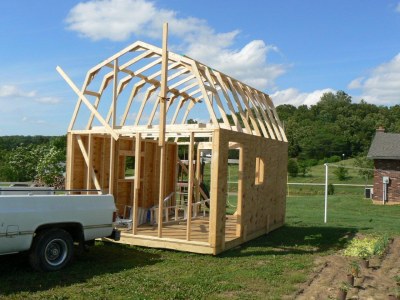 12x16 Barn
from Scott
Hi there, I purchased your plans about a month ago, its been kind of slow going with our rainy April that we had but we finally got the roof trusses up today.
I forgot to take pics before now (sorry!). Its 12x16, I'm putting 2 windows on the 2 long walls a 6' door in the front and an extra side door so I can get to the back without kicking the lawnmower all the time.
I have a question, I'm not using the same type of siding you used because my wife got vinyl siding almost free from where she works. That will work out fine except now I'm not sure on how to build a door that will look decent and not warp up on me too badly. Any ideas? I was thinking I would get some exterior ply to put behind some cedar framing and paint it, I just wanted to check and see if anyone else has ever done anything different with the doors. 
12x16 Barn
from Scott
Thanks for your time and for the plans, they are excellent by the way. I drew up my framing walls in AutoCad and will share those with you if you're interested (I'm a drafter professionally).
Thank you,
Scott
Have a look at the 12x16 Gambrel shed plans.
---
Here's another 12x8 saltbox shed.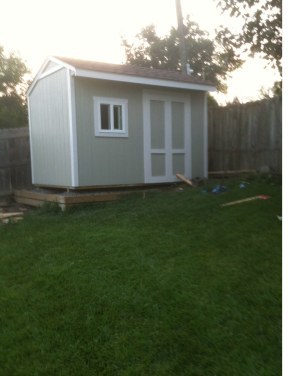 Heres another 12x8 saltbox shed design, built by Jeff. 
Looks great Jeff. You did a nice job with this one. 
This is not the easiest storage shed to build but if you are up to the challenge like Jeff was, you will turn out a nice shed like this one that can be used for a garden shed, storage shed, chicken coop, or a small office.
---
12x16 Gambrel shed pictures from Robert

I bought your plans for a 12x16 gambrel shed, made a few modifications to fit our application and just finished it. Thought you might like to see the process. Thanks for the plans. They were a great help. If you are wondering about the lime green trim, it is in memory of my father who passed away a few years ago. Thanks again. 
Rob Adams
From the looks of it Robert had quite a bit of prep work to do in order to get to having flat and level ground to pour his concrete shed floor.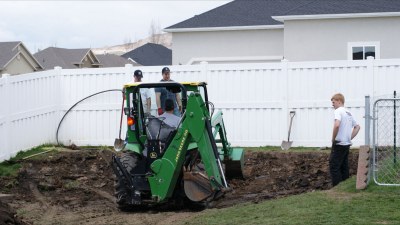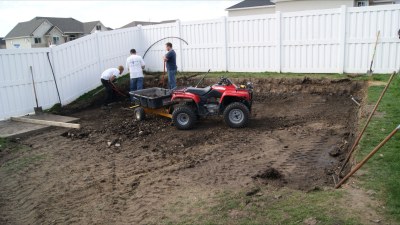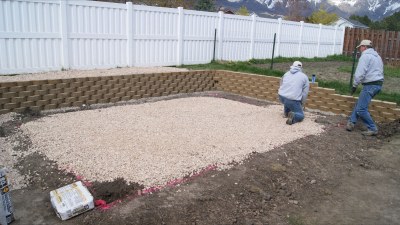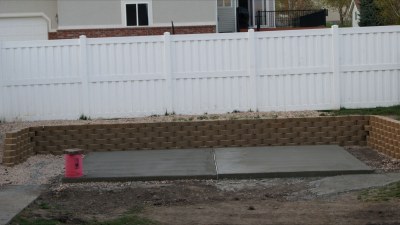 Now that the concrete cement floor is done, we can finally start building the gambrel shed.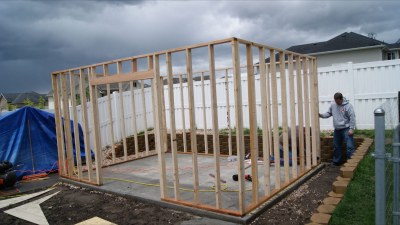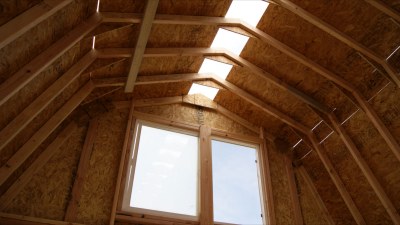 With the roof framing done and loft boards in place, the roof can be covered with roof felt and shingled.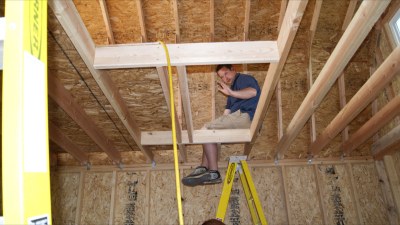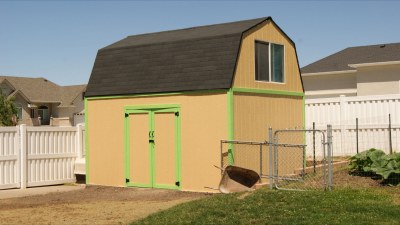 What a great job you did building this nice sized 12x16 gambrel shed with loft.
I am quite sure your Dad would have been very proud of you Robert! Thank you for visiting shedking.net and purchasing the plans, and building the shed (quite nicely I might add!)

If you would like to look at the plans Robert used to build this gambrel shed with, please click here for the 12x16 gambrel shed plans.
---
The Friedman's Built This Really Nice Gable Shed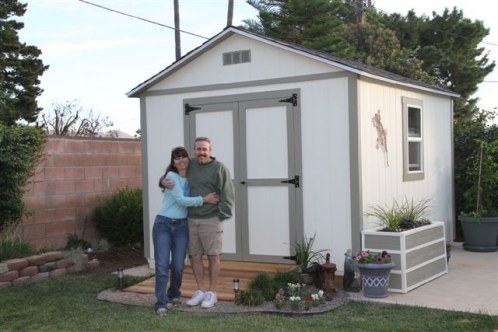 Not only did the Friedman's build a really neat gable style storage shed, their landscaping is beautiful! Nice Job Done!
Plans for this 10x12 Gable Storage Shed.
---
Mary's 12x16 Gambrel Roof Shed with Side Porch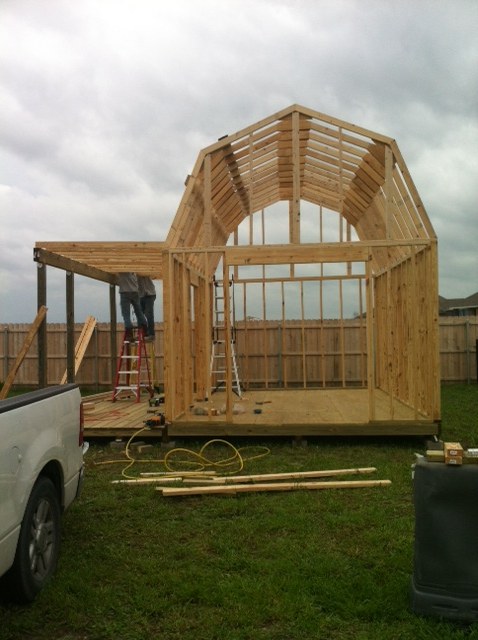 Mary sent me this pic in March of 2012 of the 12x16 barn with porch she is in the process of building.
Coming along very nice Mary!

---
My Wife Sarah's Garden Shed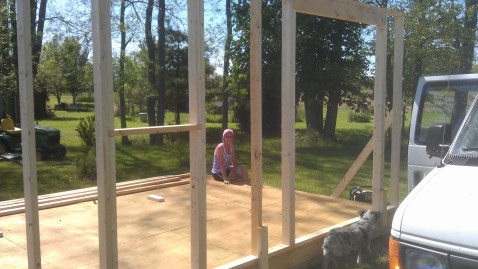 I'm finally building my wife a garden shed. If it ever gets done, she'll have a nice 12'x16' gable style shed to store all her garden tools in and whatever else she needs to put in there.
We're also adding on a chicken coop on the back side of this shed so that we can get them back up closer to our house. Less walking to do to take care of the littel buggers!.

Read more and follow my building progress of Sarah's Garden Shed.
---
Rod's Gable Shed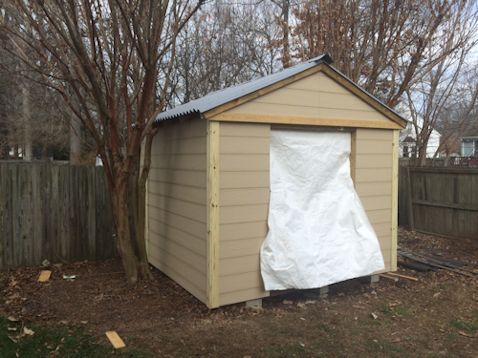 Rod sent me these pictures of the gable shed he is building. Rod didn't actually build this shed using my shed plans, he built it using the free shed building information right here on this website.
See more of the Rod's pictures he sent of his neat shed.
---
Glenn's Playhouse Shed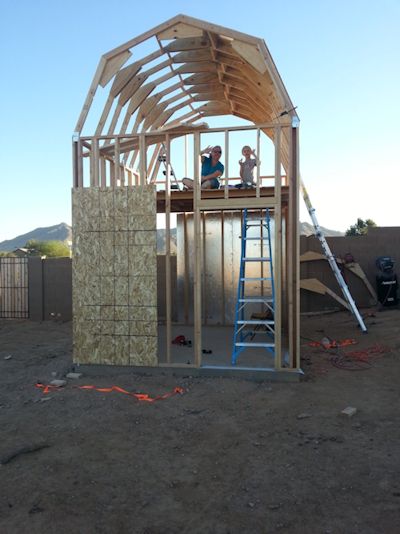 Glenn is building this 10x12 gambrel shed to be used as a playhouse for his kids, then later when they have grown up, Glenn will be using the shed for other purposes.
See more of Glenn's playhouse shed.
---
Cammy's Tiny House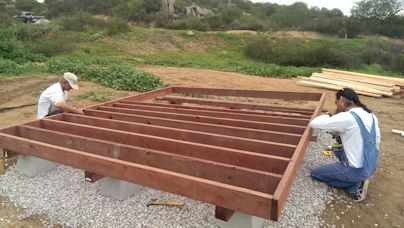 Check out the progress of Cammy's tiny house being built from my 10x12 barn shed plans. This is going to be a neat project indeed!
See Pictures of Cammy's Tiny Barn House.
---