6'x8' Lean To Shed Plans
These 6x8 lean to shed plans are perfect for building a nice little storage shed that can be a bicycle storage shed, a generator shed, tool shed, pool shed, or even a chicken coop.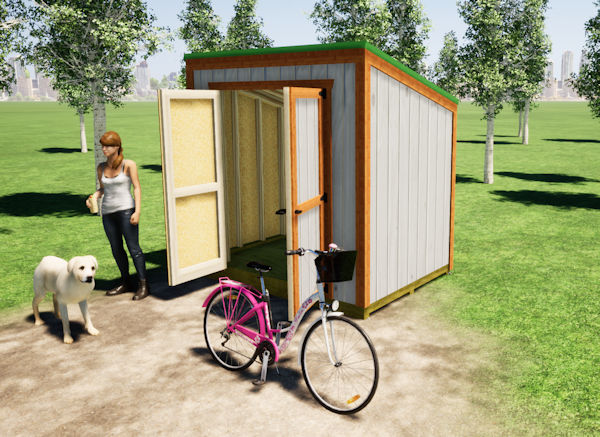 6'x8' Lean To Shed Plans
6'x8' Lean To Shed Plan Details:

8' wide x 6' deep.
8' 11 1/4" high off the ground to roof peak in the front.
7' 3" high off the ground in the back.
5' double shed doors.
Treated 2x6 lumber floor with joists spaced 16" on center.
Solid 2x4 stud wall construction spaced 16" on center.
2x6 roof framing with trusses framed 16" on center.
7/16" osb roof sheeting covered with corrugated metal roofing but you can also cover the roof with shingles.

LP Smartside siding panels shown in plans but you can use T1-11 or other similar solid panel siding.
Cedar or PVC trim work.
Table of Contents for these plans:
Table of Contents
What's included with your immediate pdf download:

17 pages of building blueprints in full color and lots of detail. 
Plans are in pdf format and are 11"x17" in size. 
Printing your plans at this size will show an accurate scale for the building inspector when you submit the plans for inspection approval.
Comprehensive 44 page lean to shed building guide. Down load it here.
Materials list you can use for both shopping and building your lean to shed. Down load it now.
Email support for any questions, concerns or problems you may have.
See how easy the shed framing is for these 6'x8' lean to shed plans: (in 3d)

---
Purchase for $12.95 below...
After you submit your purchase information you should get a link right away to download the plans.  If you have any problems please contact me right away.

How hard is this 6x8 Lean to Shed to build?
This is not a hard shed at all to build.  If you have moderate experience at building things out of wood, you should not have any issues. The roof is an actual 'shed roof' just due to the fact that it has one slope only, unlike the gable style roof that has two sides, or the gambrel style roof which is indeed much more complicated to build.
The walls are framed with 2x4's at 16" on center.  Each wall is built separately and stood in place, then nailed or screwed into place.
The floor framing is very simple and is constructed of treated 2x6's spaced 16" on center.  You can add heavy duty eye bolts to the ends of the 4x6 skids and pull this shed to any location on your property.
The shed door will last a long time and are definitely built to be sturdy and non-sagging.
Siding your shed is also easy as the LP recommended siding panels are 4'x8' in size and can be installed directly over the framed walls without any underlying osb wall paneling.
Please contact me with any questions you may have about these 6x8 lean to shed plans.