Diy Lean to Shed Plans: Step by Step Easy to Build Designs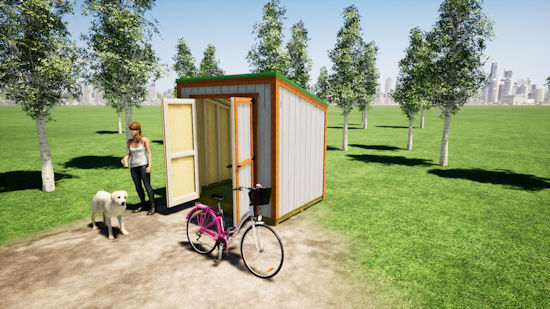 Easy Diy Lean To Shed Plans
These lean to shed plans will help you to easily build and get that extra space you need to store your lawn mower, garden tools, or sports equipment?  A lean-to shed is a great way to add extra space to your home without taking up too much space!

Check out these Diy Lean to shed plans

6'x8' Lean to with 5' Double Doors
This lean to has wide 5' double shed doors so you can move your garden tools in with ease! 

4'x8' Lean to Shed Plans
This 4x8 lean to shed is perfect for storing bicycles in.  Just the right size!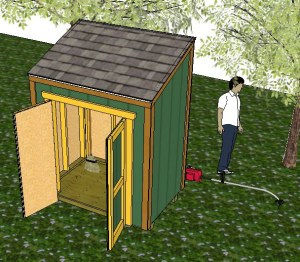 4'x6' Lean To Shed Plans
This is the first lean to shed plan I did!  It's just the right size for all your garden tools.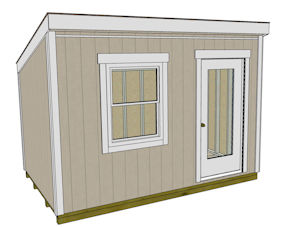 8'x12' Lean To Shed Plans
This 8x12 lean to shed is just perfect for building that backyard home office you've been wanting and needing!

What is a lean-to shed?

A lean-to shed is a type of shed that is built against an existing structure such as a wall or fence, or it can be a free standing shed. It gets its name from the fact that it is built at a slight angle or "lean-to" the existing structure. These sheds are very popular because they are easy to build and don't require a lot of materials. They are also great for providing extra storage space without taking up too much space.
Can you build a shed?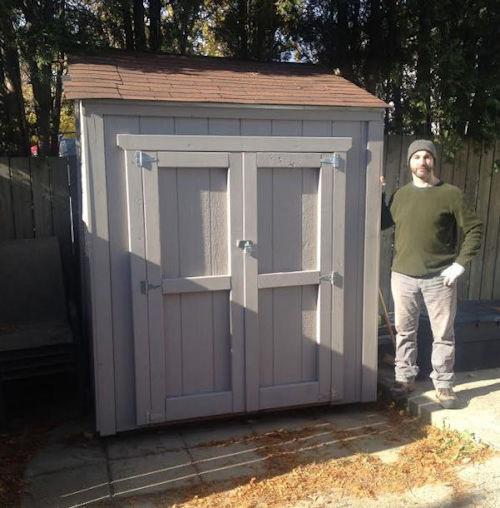 Lean To Sheds Are Easy to Build!
Building a lean-to shed is not difficult, but it does require some basic carpentry skills and knowledge. Here are the steps for building a lean-to shed:
Planning Your Shed - Before you start building your shed, you need to plan it out first. This includes finding the right spot for your shed, measuring it,  and getting your hands on some good plans (see above!!). I always suggest submitting your plans to your local building inspector.
Building the Shed Floor and foundation - The first step in building your shed is to build the shed floor. This includes laying down a concrete slab or concrete pad, laying down floor joists, and laying down plywood sheets for the floor sheeting if going with buildng a wooden shed floor.

Building the Walls - Once the floor is built, the next step is to build the walls. This includes building the back wall, front wall, and side walls.  Then you'll want to add your siding.

Building the Roof - After the walls are built, you need to build the roof. This includes cutting the rafters, nailing down roof sheeting such as 1/2" osb or plywood, then roofing felt paper, and shingles or metal roof.
Finishing the Lean-To Shed - The final step in building your shed is to finish it. This includes painting your shed siding and trim, adding doors, and/or windows, installing trim, and adding any other finishing touches you want.
The good news - all of the above is here on my website and in the plans you order here at shedking.

What are the benefits of a lean-to shed?
There are several benefits of using lean-to shed plans to build your shed. First, every lean to building plan I have easy to follow and they all provide step-by-step instructions for building your shed. Second, my lean-to shed plans provide detailed diagrams and measurements, materials list for shopping and building, and a building guide so you can be sure your shed is built properly. And you can contact me any time if you have questions along the way of building your shed.

What materials do you need to build a lean to shed?

When it comes to building a lean-to shed, there are a few materials you will need. These materials include:
Depending on the floor or foundation chosen, you will either need concrete or floor joists if you are building a wooden floor.
Plywood Sheets or osb sheets for the flooring and sheeting to go down on your trusses or rafters.  Or if you chose to go with a metal roof, you will be nailing or screwing down purlins to the trusses or rafters to attach your metal roof to.

Wall Studs which are 2x4's typically spaced 16" on center.  You can, although it's rare, use metal studs for your wall framing.  I do not show this particular option in my plans.
Siding.  Siding can come in all different forms from engineered and primed 4x8 sheets such as LP Smartside siding panels, or lap siding, vinyl siding, or board and batten siding, or metal siding panels.

Exterior Screws and or the appropriate nails listed in the building guide that comes with all my storage shed plans.
What tools do you need to build a shed?

Here's a list of what I prefer to use when building sheds.
Circular saw or miter saw.
Tape measure.
Air nailer - the one I prefer is my paslode framing nailer.  It makes your framing tasks so much easier than nailing by hand!  If you don't want the expense of buying a framing nailer you can always just rent one from your local tool rental place.
Hammer.
Drill.
2' and 4' levels.
Saw horses.

Shovel - maybe?
Speed square - an invaluable tool you can use to measure angles for your trusses and rafters if you're not using a power miter saw to cut your angles.
Choosing the right lean to shed plans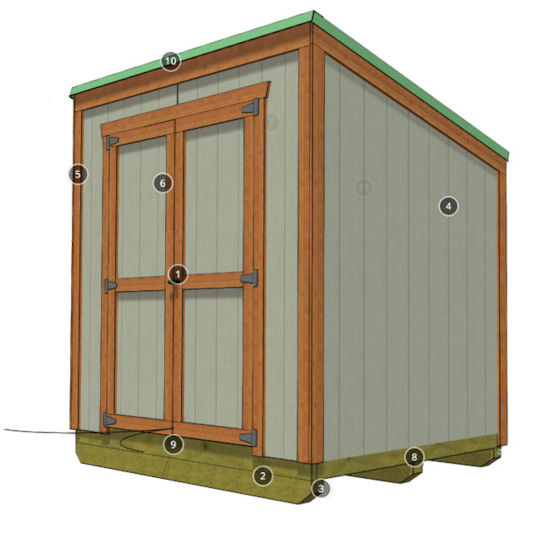 These lean To Sheds Can Be Very Portable
When it comes to building a lean-to shed, it's important to choose the right shed plans. There are plenty of free shed plans available online, but they often lack detailed instructions and diagrams and the necessary measurements such as angle cuts for roof trusses and rafters. If you want to ensure your shed is built properly and is safe and secure, then you should consider using premium plans. Premium plans are more detailed and provide step-by-step instructions for building your shed. They also provide detailed diagrams for door plans and roof framing details and measurements so you can be sure your shed is built properly, and you can't submit free plans for a building permit!
These Lean to shed plans coming soon!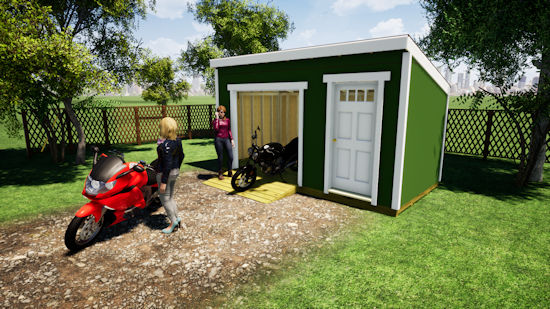 This 8x16 Lean To For Your Motorcycle
8x16 Lean To For Your Lawnmower