---
10x12 Shed Plans for Building Diy Storage sheds 
---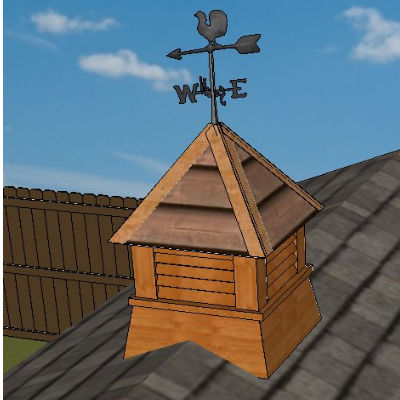 Free Cupola Plans W/Every Plan Purchase
What kind of shed can you build with these 10x12 shed plans?
Using 10x12 shed plans offered by ShedKing.Net, various types and styles of sheds can be constructed. Here are some of the possibilities:
1. Gable Style Sheds: This is an A-shaped roof style shed, providing good headroom and space, ideal for storage or for use as a workshop, yoga studio, shed shed and more.
2. Saltbox Style Sheds: These sheds have a long sloping roof, which is great for fitting into spaces with restrictions. This design of shed is quaint and aesthetically pleasing.  This style shed is great for a garden shed!
3. Lean-To-Style Sheds: ( coming soon) Often used adjacent to the main house or garden walls, their single slanting roof makes construction easy.
4. Barn or Gambrel Style Sheds: These have a distinctive double sloped roof, providing more storage space, particularly if you add a loft.
 5. Clerestory Style Sheds: These sheds have a row of windows in the roof, providing natural light into the shed.
Benefits of Building an 10x12 Shed Yourself:
There are several benefits of building a 10x12 shed by using ShedKing.Net's easy to follow and easy to use plans:

1. Detailed Instructions: The plans come with explicit step-by-step instructions, making the building process easy even for first-time builders.
2. Versatile Space: A 10x12 shed offers ample room for storage of garden tools, bikes, lawn furniture, etc., or can function as a cozy workshop or hobby room.
3. Enhanced Property Value: A well-built shed can add to your property's value and appeal.
4. Time and Cost Efficient: By following these ready-made plans, it saves you time designing your own shed, and potentially saves costs as these plans are designed to minimize waste and overbuying of materials.
5. Supports DIY-ers: For DIY enthusiasts, these 10x12 shed plans offer a gratifying project that results in a functional and attractive addition to your property.
6. Customizable: The plans are flexible allowing for modifications or adding personalized touch like paint color, different doors, windows or adding shelves.
7. Technical Support: John, the shedmaster and developer of all shed plans,  provides technical support to answer questions and assist in the building process.
About the 10x12 shed plans you're going to receive immediately with every download:
All my 10x12 shed plans have all the detailed blueprints listed below and show all lengths and angles needed for construction.  These plans are premium plans not like the free shed plans you see on the internet where many of them don't supply you with board lengths and truss angles etc.
My shed plans take you through the construction process step by step, ensuring your project stays on track from start to finish. Whether it's cutting for your floor joists, framing out your walls, setting trusses or rafters, or installing  windows, I've got you covered.
Elevation Views
Building Cross Section
Floor Plan
Floor Framing
Floor Anchors
Floor Sheeting
Left Wall Framing
Right Wall Framing
Back Wall Framing
Front Wall Framing
Door construction

Truss or Rafter Details
Roof Framing
Overlook/overhang Construction
Siding detail

Loft Construction
Roof Sheeting
Ramp Construction
Nail Guide
Detailed building and construction guides included
Whether your download is an 10x12 lean to plan, barn plan, saltbox plan, or gable plan, each building guide it tailored specific for that style of shed.  The building guide covers each phase of construction:
Floor and foundation construction
Wall construction
Door construction
Framing windows
Roof construction
Siding
Ramps
About the materials list you receive with your download
Included with every 10x12 shed plan is a detailed materials list.  This materials list has a dual function.  It can be used for shopping for materials and for building your shed as it is broken down by each shed building phase.
Get a dual purpose materials list when you buy my 10x12 shed plans.
My email support is second to none
Please feel free to email me with any questions you may have during the building process of your shed or any questions you may have about building your shed.  I will respond as quickly as I can.
One striking feature of my10x12 shed plans is the great space they provide. Imagine all the gardening tools you can neatly pack away, or that spacious home office you've always wanted, and even a dedicated DIY project area.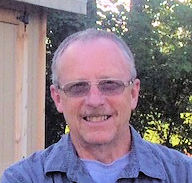 John, the shedmaster at shedking.
When you build a shed using my 10x12 shed plans this is what you get:
Foundation plans
Floors can be concrete or wooden with treated 2x4 or 2x6 floor joists spaced 12" on center or 16" on center.
Wall framing with 2x4 or 2x6 wall studs spaced 16" on center or 24" on center. Also framing is with bottom and top wall plates
Appropriate siding you can side your shed with.  For example 4'x8' sheet siding such as LP Smartside siding or t1-11 siding, or Lap siding over 1/2" osb or plywood sheating.
Roof framing with 2x4 or 2x6 trusses or rafters spaced 24" on center or 16" on center.
Vented roof - either gable end or soffit vents with ridge vent.
If shingling the roof - 1/2" roof sheeting that is plywood or osb.
If using a metal roof - 2x4 purlins over roof trusses or rafters then covered with metal roof panels.
Free cupola plans too!
Yes, when you order any of my shed plans you will receive a code to use when purchasing the cupola plans that will allow you to download them for free.
Overall, a cupola is a practical and stylish addition to any shed.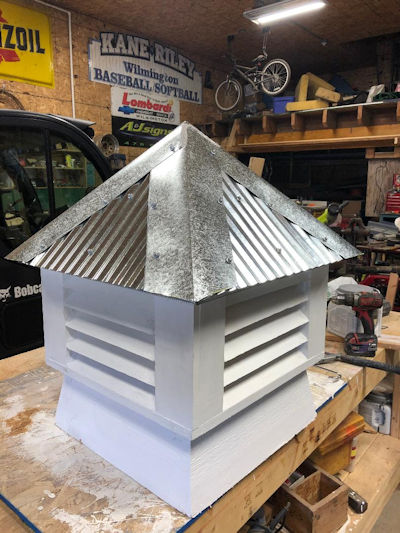 A Cupola Built By One Of My Plan Buyers
My thoughts and feelings about free shed plans on the internet:
Who needs a free shed plan that lacks detail and leaves you guessing on the steps? With everyone of my shed plans, you get a detailed plan, clearly detailed materials list, and if you follow the steps, a professional result that would be the envy of many neighbors.
If you are reading this, I am glad you were able to find my site and read this!  Because many of the top search results that show up first on google for the search term 'shed plans' show up first because they offer 'free shed plans.'  I have checked them all out.  They supply free shed plans, however they do not give all cut lengths and especially they don't give angle cuts for roof trusses and rafters.  To get those, you have to buy their 'premium' plans.  It is so dissapointing that google gives precedence to sites like these.
Let me ask you:  Do you do your job for free?  Did you tell your present employer that if they hired you that they wouldn't have to pay you for your work?  Then once hired you told them "If you want me to do that, well then I require a wage for that."  I don't think so but this is what these companies are doing that lure you in with 'Free shed Plans'.
I love customer pictures from the sheds they've built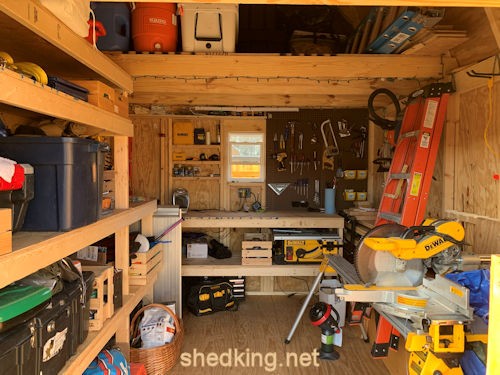 Dan's Workshop Inside His 10x12 Barn
Consider the advantage of having your own personal space. Whether it's a home office, workshop, or art studio, creating a space that's entirely yours can be deeply satisfying. With my 10x12 shed plans, you can truly make this space your own.  Like Dan's workshop in the pic to the left.
You don't have to be a professional to build your shed
You can absolutely build a beautiful shed in your backyard where you can store your garden tools, work on your hobbies, or even set up a home office? Perhaps the thought of building the shed yourself may seem daunting, but it doesn't have to be. 
All my 10x12 shed plans are highly detailed, come with a materials list, a comprehensive building guide, and, most importantly, I offer email support for all your questions.  
Since I have been selling shed plans on the internet, I have had 100's of diy customers send me pictures of their beautiful sheds and many of them have told me it was the first time they ever attempted trying to build a project of this magnitude.  But you know what, they all did a fantastic job even without having a whole lot of experience building anything!
DIY shed building with 10x12 shed plans is not just about the space, but the experience in itself is self-rewarding. The feeling of accomplishment once you've completed constructing your shed from scratch is absolutely priceless.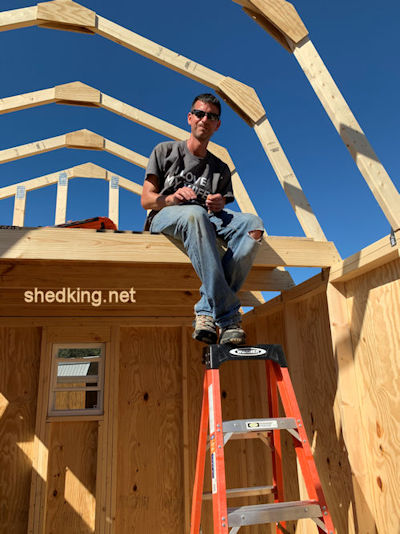 Dan Sitting On His Loft In His 10x12 Barn
My  detailed 10x12 shed plans are designed with the DIYer in mind. They provide clear guidelines for everything from the floor up to the roof that make it achievable to construct a sturdy and professional looking shed right in your backyard.
Here's Dan again in his 10x12 barn shed he built with the huge loft that gives so much more storage than say a saltbox of gable shed.
Creating something of your own can be incredibly satisfying. Even if you aren't experienced with tools, a 10x12 shed plan can guide you every step of the way, from the first step of the project to the final nail.
Always check your local building codes first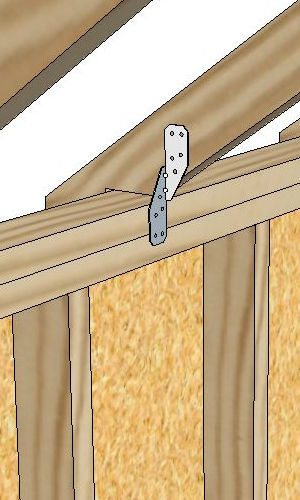 Your Building Code May Require Hurricane Ties
Have you thought about the building permit and local codes? Sometimes it's easy to overlook the legal aspects of your project. Fortunately, these 10x12 shed plans are designed bearing in mind the need for a building permit, and adherence to local building codes, thus saving you from potential hitches with the local building department.
I try to write all my shed plans so that they conform to the national building codes however it's impossible to satisfy them all.
Florida for example will have some of the most stringent codes just because of all the detrimental weather they have had.  Several improvements have occured due to this, one of which is incorporating hurricane ties with each truss and rafter.  You will find these on all my shed plans.
You've got the backyard space, I've got your plans
One undeniable advantage of detailed 10x12 shed plans is the possibility of building a structure with perfect wall frames fitted with top and bottom plates. This gives your shed a sturdy and lasting structure, allowing for a durability that will withstand the test of time.
Each 10x12 shed plan offers an ideal storage space, whether you're looking to store a riding mower, gardening tools, or transform it into a functional home office. And with doors of your choice, such as double shed doors, accessing your stored items or moving around your office furniture becomes a breeze.
How much does it cost to build a shed?
So, how much does building a shed cost? Naturally, the total cost of building a shed will depend on various factors, including the type of materials you use and whether you need to hire any specialized tools. However, using one of my 10x12 shed plans could offer significant savings. As the plans provide a precise list of what you need, there's minimal waste.  Plus, you can expect to pay double if you had hired a shed builder to build your shed!
Maybe you've been considering a small shed, but imagine what more space could do for you. A 10x12 shed offers plenty of space and versatility. From a barn shed, a gable roof shed to a lean-to shed, you get to select one that suits your needs and your yard. It's vital to remember that the right dimensions of your shed are paramount for its functionality.
Get started today building your shed
When you opt for my premium 10x12 shed plans, you get more than just blueprints. These plans are comprehensive and designed for those who may not be professional carpenters. They offer step by step instructions that are easy to follow, accompanied by a detailed materials list to streamline your shopping and also building experience.
Every design of the 10x12 shed plans offers potential for customization. Whether it's the door, side walls, back wall, wall height, or the roof pitch, you can always add your personal touch to these designs. This makes your DIY project not only a learning experience but also a creative one.
Ultimately, the key to a successful DIY project is to start with the right plan. Take it step by step, email me for help if you need it, and remember to enjoy the process. Each day is an opportunity to learn, and with these 10x12 shed plans, you'll be a shed building professional in no time!