How To Build Shed Walls

How To Build Your Shed Walls
Let me show you how to build storage shed walls the best way and the right way.
You can use the surface of your shed floor to build either wall first.
I always found it easier to build my walls after first building the shed floor.  This way you can build all your walls directly on the shed floor, one at a time.  Set them off to the side so you can build all of them.  Then stand them up one at a time and nail or screw them down into place.

Shed wall terminology

An Example of How To Build a Shed Wall
Here's some steps to follow for building your shed walls..

First, measure and cut your top and bottom plates.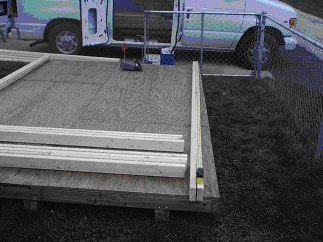 Shed Wall Pieces Cut and Ready to Go
Now place them together and mark off locations for your wall studs and door stud location. Cut your wall studs and door studs (door studs if you are building a saltbox shed) and lay them in between your top and bottom plates and nail into place.
Now go ahead and cut all needed siding for your walls to the specified length.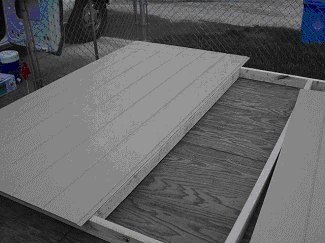 Adding Your Shed Wall Siding
Sometimes you can add your siding to your framing before standing your wall up.  Other instances of building your shed you may want to stand all your walls up first before adding siding.
Shed wall construction is easier with helpers!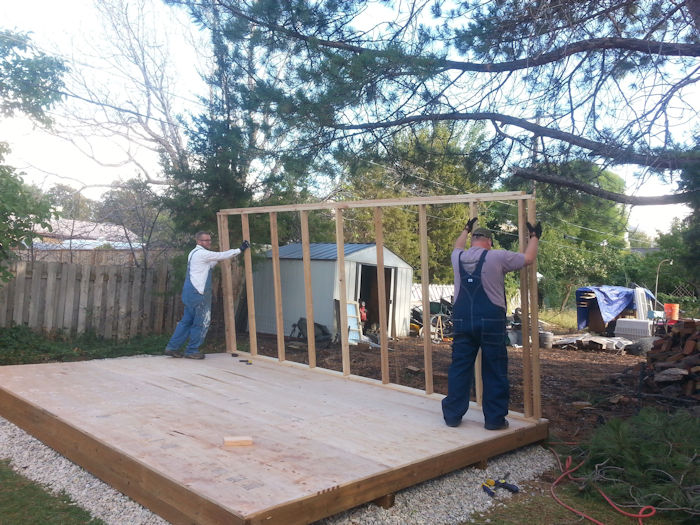 Use Helpers For Standing Your Shed Walls Up!
Starting with the left side of your newly assembled wall line up the first piece of siding so that the top plate and left wall stud are flush with your siding. This will square up your wall perfectly. Remember to lay your siding down so that the laps fall correctly.
Nail the siding into place using 8d galvanized box nails. Nail every 8" on top and bottom plates and on inside studs. Don't nail the inside lap yet until you've laid your next panel into place. You should have at least 1-1/2" of siding extending below your bottom plate as shown in the picture above.  This will provide protection to your shed floor from the elements.  You don't want water to penetrate to the inside of your shed!

Finish nailing the rest of your siding panels into place, remembering to keep your top edge of your siding flush with your top plate. Always nail your top plate to your siding first then line up your seam perfectly next and then nail it, then continue nailing the rest of the panel. This will keep your wall square.

You can now nail your wall into place after standing it up.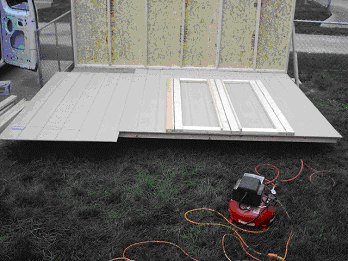 Adding Siding Before Standing Walls Up
Here's an example of a shed wall with the door components that have already been built and placed on the siding panels before standing the wall up.

It is a good idea to have a 2x4 already nailed onto your wall that you can use for nailing to your floor to keep your wall in place while you nail the bottom plate to the floor using galvanized 16d box nail. Nail by each wall stud into your floor joists making sure that your wall ends line up with the edges of your floor.
You can assemble your other wall next in the same manner. Start with the left panel first, then your 2 door panels next (if you are building a saltbox shed) making sure to once again keep the top edge of your panels perfectly flush with your top plate.

Stand this wall up and nail into place just the way you did your back wall.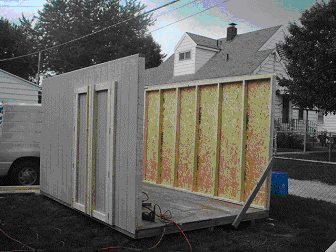 Bracing a Shed Wall
Using scrap 2x4s, temporarily brace up your walls good to your floor so that they are good and sturdy and will not move one way or the other.
Typically I will build the 2 longest walls first as shown in the picture above, then frame the shorter walls.  In this case they would be the end walls.  These walls should be framed so that when siding is placed on them the siding ends (longer side) line up properly on wall stud so you can nail it down properly.

Shed Walls All Framed Up and Nailed Into Place
Now after the walls are up and nailed into place, construction of your roof can begin!

I would be happy to answer your question about shed walls.
Enter your question below
Questions asked from other visitors
Click below to see questions about building shed walls from other visitors to this page...

Are we having fun yet? I sure hope so.
Ok, on to the next step: How to build your storage shed doors
DISCLAIMER

Do not purchase materials or attempt to build this shed project unless you have studied the information provided thoroughly, and have verified all dimensions and material requirements for yourself. Also verify that the plans conform to local building codes and practices. Although every effort has been made to ensure the accuracy of the information and design, the user is ultimately responsible for the use of this information. All information provided is copyrighted and cannot be duplicated without the permission of Shedking.