Shed house ideas, designs, and plans to build your tiny home
Clicking On Any Picture Will Take You To The Plans For Building That Shed House
When I talk about shed house ideas, I'm talking about transforming a simple storage shed, a shed conversion, or building a shed house to be a livable space similar to tiny homes. With creative ways, these sheds can become anything from a cozy main house, to a mini pool house, a cool guest room, a compact home office, or even a separate space for your hobbies. 
As someone who deeply appreciates the tiny house movement, I've always seen shed houses as a fantastic, cost-effective way to reduce mortgage payments and give the gift of homeownership to yourself. Building a shed house is not just saving money; it's about building the perfect solution to your unique residential needs.
My best shed house ideas - here's my #1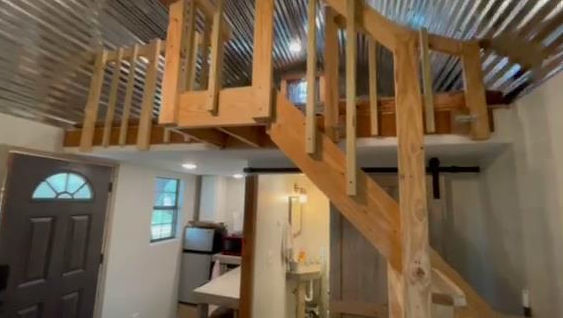 Stairway Leading To The Bedroom In The Spacious Loft
In my humble opinion and as someone who builds sheds professionally, my number one choice for the style of shed for a shed house would be the barn or gambrel shed.  I say this because for the foot print (or amount of ground space taken up) this shed gives you more options for setting up a bedroom, kitchen, and bathroom.
View From The Living Room
These are pictures sent into me by Mr. Gray who used my 12x16 barn with porch plans to build this neat guest house on his land.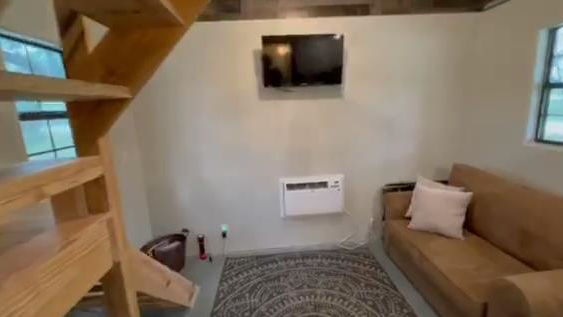 The Living Room Has Enough Space To Be Comfortable
As you can see by these pictures, Mr. Gray was able to take advantage of the huge loft space to put a bedroom up in the loft, and downstairs not only a kitchen and bathroom, but also a living room that also has the stairway leading up to the loft bedroom.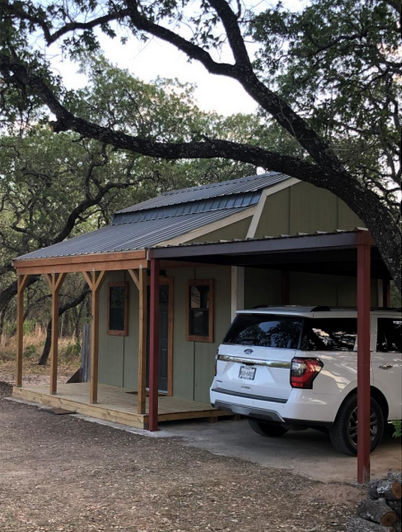 This Shed House Even Has a Carport!
The above barn style shed house is only 12x16 with a 6' side porch.  Plenty of space for a bedroom in the loft, a nice kitchen, bathroom with shower and vanity and toilet, and living room with wall unit for air conditioning and heat.
If it was me, and I was researching shed house ideas, I would pick the ones with the huge lofts above.  I feel you just can't go wrong.  It just opens up and makes available more space on the ground floor to build your bathroom and kitchen and sitting area!
What are the benefits of building a shed house?
1. Affordable: One of the key benefits of a shed house is that it is significantly less expensive than traditional home construction. 
2. Flexibility: Shed homes allow for a great deal of flexibility in terms of design and customization. You can adapt the layout and features of the shed to suit your specific needs and tastes.

3. Quick Construction: Shed homes usually have a much faster build time compared to traditional houses. 

4. Reduces Clutter: A shed house provides additional space for storage, reducing clutter in your main house.

5. Versatility: A shed house can be used as a liveable shed like a guest house, home office, workshop, studio, among many others.

6. Minimal Maintenance: Shed houses typically require less maintenance than a full-size home.

7. Eco-Friendly: Many shed homes are built with sustainable materials and can be more energy-efficient than traditional homes.

8. Easy to Expand: If your living needs grow, it's easier to expand a shed house than a traditional one.
Remember, the actual benefits can vary based on your personal circumstances and the specific type of shed house you choose to build.
When looking for shed house ideas, several factors need to be considered:

1. Building Regulations and Permits: Check with your local authorities to find out about building codes and requirements. You may need a permit to build a shed house especially if it's of a certain size.
2. Site Selection: Choose a site that's flat, easily accessible, and free from overhead obstructions like trees and power lines. Consider how the sun will hit the shed during different times of the year.

3. Size and Design: Determine how much space you need and what you'll use the shed for. This will help in deciding size and design. 

4. Budget: Consider all costs involved, including materials, labor (if you're hiring professionals), and any necessary permits or inspections.

5. Materials: The materials you choose will affect the look, cost, and longevity of your shed. Common materials include wood, metal, and plastic. Each has its pros and cons.

6. Foundation: A solid foundation is critical for any building, including shed houses. Depending on the size of the shed and the ground you're building on, you may need a concrete slab, concrete blocks, or treated lumber foundation.   A wooden shed floor will make your plumbing layout easier for running your drain lines.  If you go with a concrete shed foundation you will have to definitely pre-plan the bathroom and kitchen layout exactly and run your drainage lines accordingly.

7. Insulation: If the shed is going to be used as a living space or work space, you will need to consider insulation for both warmth in the winter and to keep it cool in the summer.

8. Utilities: If you need electricity, heat, and plumbing, planning is required to ensure the utilities are appropriately installed.

9. Construction Skills: Building a shed house involves several skills including carpentry and possibly plumbing and wiring. If you're doing it yourself, ensure you have the necessary skills or consider hiring experts.

10. Maintenance: Consider how much maintenance your shed will need in the future, based on the materials you use and your local climate.
Here are some additional shed house ideas
The first idea revolves around using architectural features to enhance your shed house. Consider, for example, adding double doors or French doors. Not only do these features add a touch of elegance, but they also let in plenty of natural light, which is a key element in tiny shed homes.
The next idea is about roof design. Given that your square footage is limited, a creative roof design can be a game-changer. Going for a loft area or sleeping loft can create extra room for you, making your shed house much more spacious and comfortable.

Expanding on the idea of a loft area, this can be more than just a sleeping space. It can serve as an additional storage area or even a reading nook if the height is adequate. This is an excellent example of maximizing your floor space within your shed house.

The best type of shed to build to accomplish getting a sleeping area in the loft would be the barn or gambrel style roof.

Shed houses also allow for unique decorating opportunities. Since it's a small space, small, significant pieces can make a big impact. 

One of my favorite shed house ideas involves large windows. Installing large windows, or even a skylight, can give your shed home an airy, spacious feel. Plus, it allows you to harness natural light, reducing energy costs.

I've found that adding a porch or a deck is a popular option for enhancing small homes.  It provides extra outdoor living space to enjoy a cup of tea or engage in morning yoga without increasing your square footage or your mortgage payment!
What about kitchens?
Let's talk about small kitchens in shed houses. A functional, compact kitchen that houses the basics - a small stove, a sink, and some storage - can provide all the essentials without eating up your essential floor space. Plus, who doesn't love the idea of a quaint, small kitchen with just enough space to whip up a favorite meal?
What about adding a bathroom?
Including a bathroom in your shed house plans might seem like a luxury, but if you plan carefully, you can fit in a small bathroom within your limited foot space. Trust me, it's an amenity you would never regret!
Do you need to insulate your shed house
Insulation is something that's often overlooked but super vital, particularly in the winter months. So spending a bit extra to insulate properly will make your shed house more comfortable in the long term, and it'll be a factor that makes your shed house a livable space – year-round.
What options are available for powering up your shed house?
One of The Best Shed House Ideas - Build a Porch on Your Shed House
There are various options you can consider when looking to power your shed house:
1. Solar Power: Installing solar panels on the roof of your shed house can generate renewable energy which you can use for lighting, heating, cooling, and running appliances. You can also use solar-powered outdoor lights.
2. Wind Energy: If your shed house is located in a windy area, you could consider installing a small wind turbine to generate electricity.
3. Battery Systems: You can use a battery system, such as the Tesla Powerwall, to store energy generated by your solar panels or wind turbine. You can also use batteries to store grid electricity used during off-peak hours (if applicable) to use during peak hours.
4. Generator: In case renewable energy isn't feasible or enough, a backup generator can be utilized. You can choose between a diesel generator or a more eco-friendly option like a biofuel generator.
5. Grid Connection: For sheds close to existing houses, running an underground power line from the main house to the shed is an option.
6. Hydro Power: This option is less common and only suitable if you have a nearby stream or running water with a good drop to create power.
7. Gas Powered Appliances: Some appliances, such as stoves and heaters can be gas-powered. Propane, natural gas, or biogas can be used for this.
8. Energy Efficient Appliances: Use appliances that consume less electricity such as LED lights, energy-efficient fridge, and other appliances rated with Energy Star.
Remember to consider the cost, availability, and environmental impact when choosing the power sources for your shed house.
What is the cost comparison between building a traditional house and a shed house?

The cost comparison between building a traditional house and a shed house largely depends on various factors - such as location, size, materials used, and the complexity of the design.A traditional house, on average, can cost anywhere from $100 to $200 per square foot, depending on these variables. So, a 2,000 square foot home may cost $200,000 to $400,000.
This includes land costs, materials, labor, and additional costs such as architect fees and permits.On the other hand, shed houses are typically much cheaper, due to their smaller size and often simpler design. A pre-built shed may cost around $20 to $50 per square foot, and converting it into livable space would add more cost depending on the complexity of the conversion.
Even with higher-end finishes and larger sizes, shed homes rarely exceed $75 per square foot.Remember, these are just average figures and actual costs can vary significantly based on individual circumstances. Always look for several estimates before undertaking a major building project.
How to incorporate sustainable and eco-friendly elements into a shed house.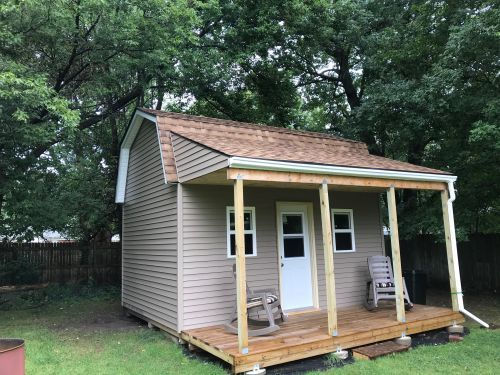 Make Your Shed House Ideas Come To Life By Using My Plan To Build A Shed Like This One.
Creating a shed house with sustainable and eco-friendly elements has various methods and techniques you can apply. Here are some tips to achieve an eco-friendly restoration:
1. Use Eco-friendly Materials: Consider using repurposed materials or those that have been sustainably sourced such as reclaimed wood, recycled glass, metal, or sustainable concrete. Bamboo, hempcrete, and natural straw are also sustainable building materials.
2. Solar Panels: Installing solar panels can provide the shed house with a renewable source of energy. Apart from reducing the use of grid electricity, solar panels can power appliances during the day and store excess energy for night use.

3. Water Conservation: Collect rainwater for re-use in the garden or for flushing toilets. Install low-flow faucets and showerheads to conserve water.

4. Energy Efficient Windows and Doors: Install energy-efficient windows and doors to help regulate the temperatures inside your shed house, reducing energy consumption for cooling and heating.

5. Insulation: Use sustainable insulation options such as sheep's wool, cellulose, and cork. An effectively insulated house will require less energy to heat and cool, increasing the shed's energy efficiency.

6. Green Roof: Incorporate a green roof system into the shed's design. This could be a roof garden or a roof fitted with solar panels. A green roof improves insulation, reducing heat loss in winter and cooling costs in summer.

7. Use Natural Light: Design your shed house to take advantage of natural light during the day. Install skylights or large windows to reduce the use of artificial light.

8. Composting or Eco-Friendly Toilet: Minimize water usage with a water-less toilet system. Composting toilets or concealed composting systems can be an eco-friendly alternative.

9. Painting and Finishing: Use eco-friendly, low VOC (volatile organic compound) paints and finishes for the interior and exterior walls. Low VOC products are less harmful to the environment and human health.

10. Garden around the Shed: Plant trees around the shed house or start a small vegetable garden. Plants can provide natural insulation and help to reduce carbon dioxide in the environment.

Incorporating these eco-friendly elements will not just make a positive impact on the environment but will also make your shed house a more comfortable and healthier place to live in.