4'x8' Chicken Coop Plans
---
These plans can be purchased by using the 'Add to cart'' button above.  Please make sure that your email account will receive emails from either e-junkie.com and/or shedking@gmail.com.  You do not need a paypal account for the purchase.
The plans are in pdf format and are instantly downloadable after payment is processed.

Many times buyers email me to say they never received the link to download the plans.  Some email servers will not accept what they think is spam or junk email and will automatically load the link in the junk email folder.  If this happens to you, and you cannot find the link anywhere, contact me and I will send the plans to you as an attachment.
This 4'x8' Chicken Coop is Easy to Build!
These 4x8 chicken coop plans will guide you to building a neat coop that your chickens will be safe in, lay lots of eggs in, and if your lucky, make more chickens in!

4'x12' Chicken Run Included on Plans
Human Entrance Included in Plans
Features of this 4'x8'chicken coop:

4' wide
8' long
4'wide x 12' long chicken run
4 bay egg laying compartment with lid
sliding window for ventilation
Easy access for cleaning
Chickens have a closable door to chicken pen
Barn style roof framed with trusses
Smartside siding panels used
Cedar trim
2x6 floor construction
2x4 wall construction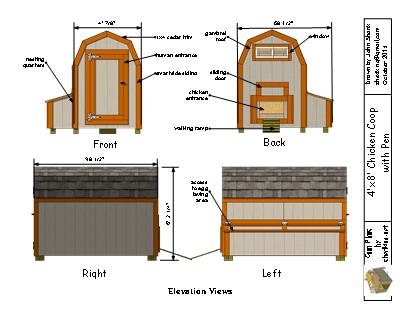 The building plans for this 4x8 chicken coop include all of the following:

Elevation Views
Building Section
Isometric Framing View
Floor Framing
Floor Paneling
Left Wall Framing
Right Wall Framing
Front Wall Framing
Back Wall Framing
Truss and Rafter Detail
Roof Framing
Egg Laying Box Framing
Siding
Roof Panels
Trim Installation
Installing Shingles
Window Detail
Main Entry Door Detail (human entrance)
Chicken Door Construction
Ramp Construction
Pen Construction
Materials list

---
Here's a video made by one of my customers who used my 4x8 chicken coop plans:

---
4x8 Chicken Coop Picture from a recent customer: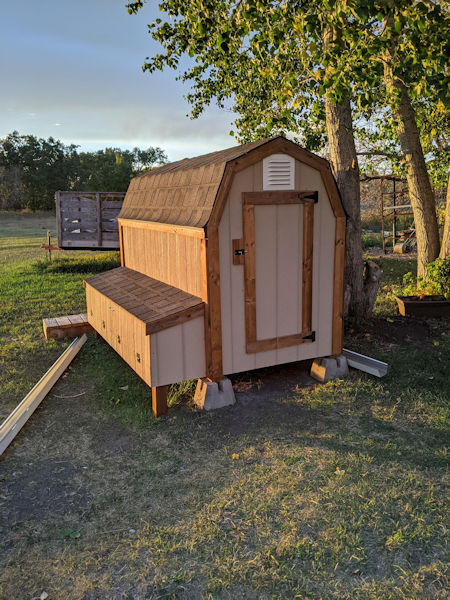 Zoe's 4x8 Chicken Coop
---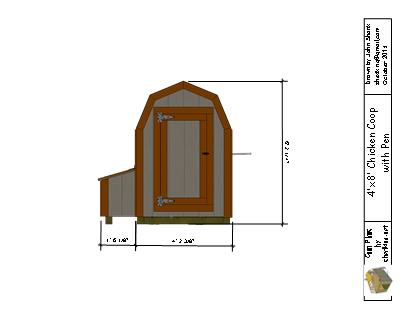 Easy Access With A Human Coop Entrance
Email support with your chicken coop plans

Should you have any questions or problems understanding or using the plans, or just any question at all just send me an email and I will do my best to answer all your questions you may have.

4 Chicken coop egg laying boxes

Nice chicken run with these coop plans