10x16 shed plans for diy backyard storage and garden sheds
Are you looking to add some extra storage space or create a cozy retreat in your backyard? Look no further than building your own shed using my10x16 shed plans. Not only will you have complete creative control over the design, but you'll also save money by doing it yourself. With the right tools, materials, and a good set of shed plans, you can build a shed that perfectly fits your needs.
Why Build your own Shed?
Save Money by doing it yourself is one of the best reasons!
Diy projects are fun and you can include the whole family and friends.

Buying a pre-built shed can be costly, with prices ranging from $500 to $5000. By building your own shed, which many agree is the best solution, you'll save money on labor costs and have more control over the materials used.
Adding a shed to your property can increase its value. Not only will you have a functional space for storage or relaxation, but you'll also be investing in your home's future.
And last but not least: Additional Storage!
Features of my 10x16 Shed Plans
Comprehensive and easy to read plans.  These are not free shed plans - I don't work for free and you shouldn't either!!
I sell premium plans with a detailed plan on every aspect of the building process from floor to roof.
My premium shed plans can almost always be submitted for a building permit which I always highly recommend.

This is  a fairly large shed with the shed size being 160 square feet.
Styles of sheds:
Gable roof 
Barn or gambrel shed roof
Saltbox shed roof
Lean to shed roof
What can you do with your new shed you're going to build?
Need more office space? Use your shed for a backyard office.
Modern shed used as a shed house.
A workshop shed.
Build a chicken coop.
Build a craft or hobby studio
Build a shed to work out in.
Potting or garden shed.
She shed for your wife or man cave for the husband.
Pool side shed.
Motorcycle shed.
Large shed for storage.
Features of the sheds built using my 10x16 shed plans
A shed floor frame that will be sturdy and level and treated floor framing with 16" on center floor joists and rim joists
Sturdy shed doors.
Wall framing with 2x4 studs.
Double header over doors and windows.
LP Engineered, pre-primed wood siding panels, or use the siding or your choice. 
Most plans have large double doors so you can store large items or move riding mowers in and out with ease.
Roof framing with trusses or rafters and ridge board.  Typically 24" on center but you can go with 16" on center for a sturdier roof.
Most plans show shingles or metal roofing.
Cedar trim or composite trim on corners, doors, and roof.
Getting Started with my 10x16 Shed Plans
Complete materials list that is also a shopping list. Immediate download in pdf format.
Comprehensive building guide included
Free cupola plans with every purchase.
Email support from John, owner and shed plan developer.
Building a shed may seem daunting, but with the right shed plans, the right tools and preparation, it can be a fun and rewarding project. 

Here are the essential steps to take when building a shed with 10x16 shed plans.
Some pictures from customers who purchased these 10x16 shed plans.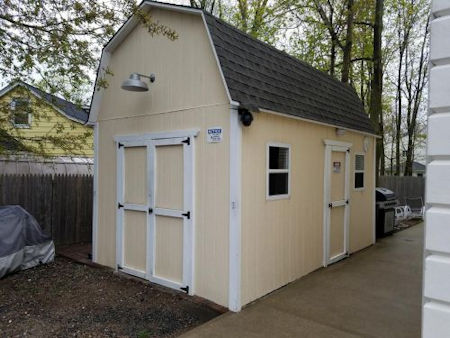 Romano's 10x16 Barn Shed
Mike's10x16 Motorcycle Shed
Dayne's 10x16 Barn Shed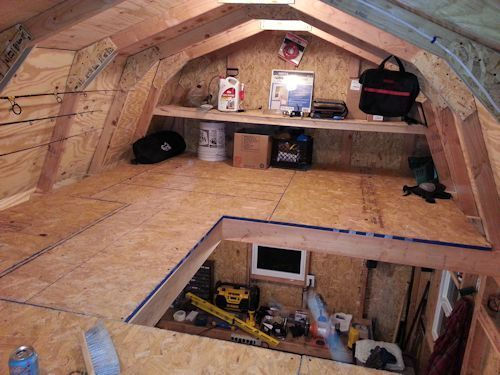 Nice Size Loft With This 10x16 Barn Shed
Kip's 10x16 Barn Shed
Free cupola plans with every shed plan purchase!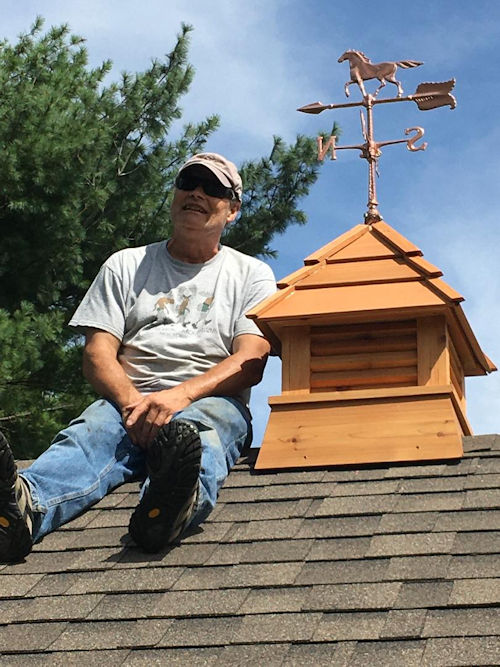 Larry Built This Cupola With The Free Cupola Plans He Got
Step-by-step instructions and Building Process
Step 1: Gather all necessary tools (see list below) and materials
Step 2: Prepare the Site
Step 3: Build the Shed Floor and Foundation
Step 4: Frame the Walls
Step 5: Build the Roof
Step 6: Install the Door and Windows
Step 7: Finish the Exterior
Step 8: Add optional shelving and/or workbenches.
Here is a tool list of the tools you'll need:
Drill
Circular Saw
Hammer
Level
Tape Measure
Safety Glasses
Work Gloves
Saw horses
Choose a level spot in your backyard where you want to build your shed. Clear the area of any debris or vegetation, and use a level to ensure the ground is even. Then, mark the corners of the shed with stakes and string.
There are several types of shed foundations, including concrete slabs, gravel, and treated lumber. Follow your 10x16 shed plans to determine the best foundation for your shed. Once you've chosen your foundation, lay out the base and anchor it to the ground.
Using your 10x16 shed plans, cut the lumber to size and construct the walls of your shed. Be sure to use a level and square to ensure the walls are straight and even. Then, nail the walls to the shed floor or anchor to a concrete floor.
Once the walls are in place, it's time to install the roof. Depending on your shed plans, you may need to install trusses or rafters first. Then, add the roofing materials and secure them in place.
Using your 10x16 shed plans, install the door and windows if included on the plans. Make sure they are properly sealed to prevent leaks and drafts.
With the basic structure in place, it's time to finish the exterior of your shed. This may include painting or staining the walls, installing trim, or adding decorative elements.
With the exterior complete, it's time to add shelving and storage inside your shed. Depending on your needs, you may want to install shelves, cabinets, or hooks to maximize your storage space. 
Building a shed with 10x16 shed plans is a rewarding project that can add value and functionality to your home. With the right tools and materials, you can create a custom shed that perfectly fits your needs. So, what are you waiting for? Start building your dream shed today!