10x12 Gable Shed Plans
These 10x12 gable shed plans are great for building your storage shed, she shed, garden shed, backyard home office, chicken coop, dog house and more!

Your Instant 10x12 Gable Shed Plan in .pdf format download includes all this:
FREE: Shed cupola plans
FREE: 3d Viewing Model
FREE: Detailed Construction Manual: 61 page gable shed building guide Download it now
Full color detailed blueprints: 20 pages 
Materials List: Use it for shopping and for building your shed.  Items are linked to Lowes for quick price look up.  Download the materials list now.
Email Support: Ask me any questions you may have about anything associated with the plans you purchased, or contact me now about any questions you may have about these plans.
---
---
NEW and also available as a separate download:

10x12 Gable Shed Sketchup File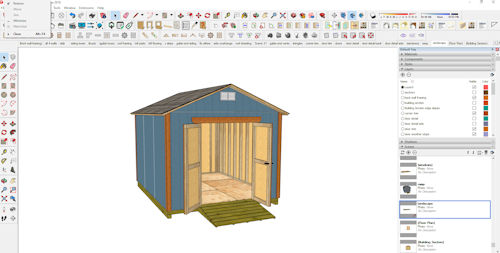 Get The 3d Sketchup File
Download the sketchup file I used to make these plans.  This isn't just a 1 scene sketchup file.  It has 35 individual scenes ranging from support skids to roof shingles.  Once you download this file you can view it with your free 'sketchup make' software which is awesome and totally free!  You can also view it in 3d on your phone using the free app called 'sketchup viewer'. This is available on both iphone and android phones to make your shed building project easier.

With the 'sketchup viewer app' not only can you view this shed  on your phone while building your shed you can also take measurements inside the app on anyone of the individual 35 scenes.  No need to take the downloaded 'paper' blueprints out to your shed building location.
What's cool about this sketchup file is you can make modifications to the model to suit your preferences.  Maybe you want the door shifted to another side or made smaller.  Or you want to add a window and re-do the framing, or make the walls taller or add a taller roof.  Once your modifications are done, you can take new measurements off on your sketchup model and print them out with the new dimensions on your shed.  It's an awesome feature with sketchup and it's all in 3d on your computer, laptop, or smartphone!

---
Save $16.95 and Bundle The
10x12 Gable Shed Plans and Sketchup File:

---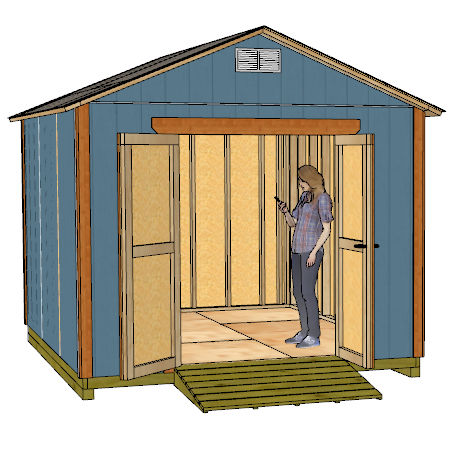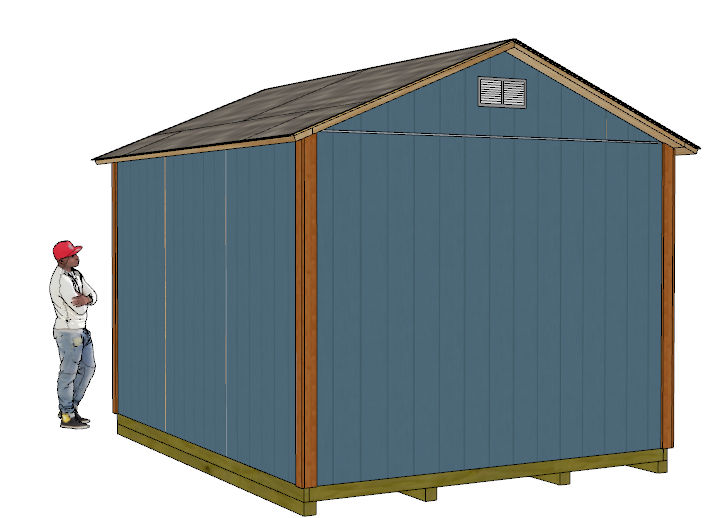 This gable shed is probably one of the easiest sheds to build out of all the shed plans I sell.  It's the perfect size for storage and standing at just 10' 3" tall it will meet some of the stringent requirements if you live in a neighborhood that has rules and regulations involving the building and construction of storage sheds.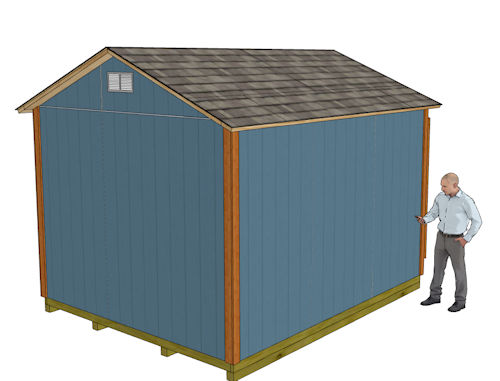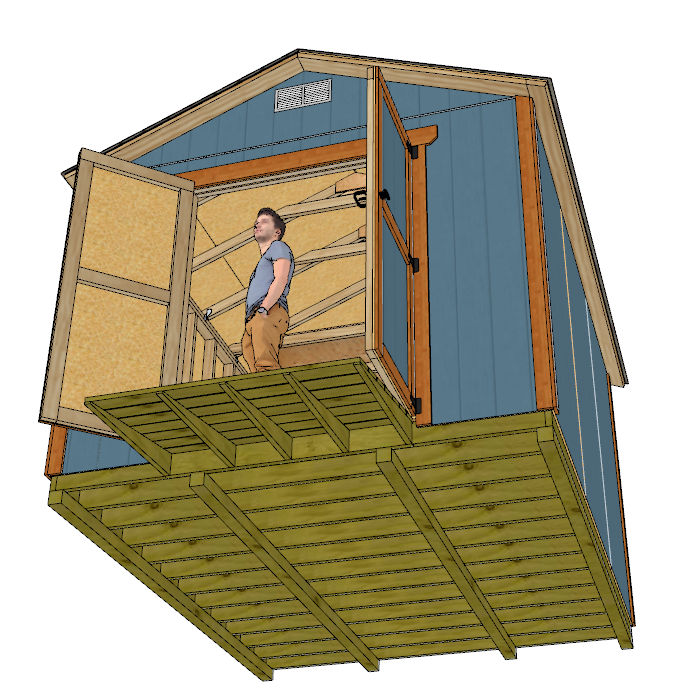 ---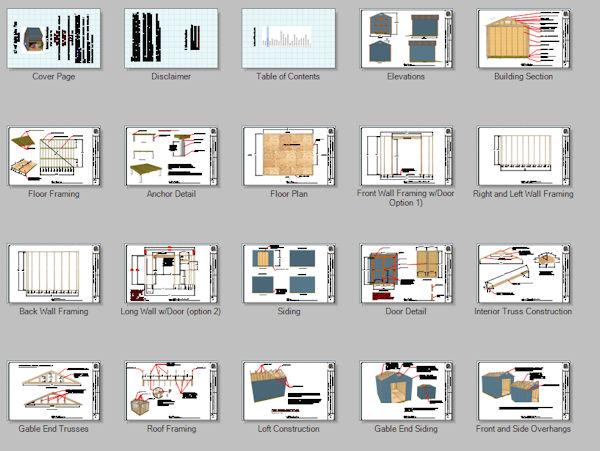 Blueprint Pages from Plans
---
Features included with these 10x12 Shed Plans:

Foundation: 4x4 skids that can be anchored in each corner with blocking between skid anchors and blocking on all interior skids without anchors. 

Floor:  3/4" plywood floor sheeting

Loft Floor:

2x6 loft/ceiling joists with 3/4" plywood flooring.



Wall Framing: 2x4 wall framing 16" on center with 1 bottom plate and 2 top wall plates.

Wall Height:

7' interior wall height

.
Total Height: 10'3" from ground to roof peak.

Shed Door:

5' wide double shed doors that you pre-build from the plans.

Shed Siding:

LP Smartside 7/16" x4'x8' siding panels



Shed Roof:  .Gable style roof framing with pre-made customer built trusses.

Roof Pitch:  5/12 roof pitch

Roof Overhang:  Side and front overhangs are constructed of 2x6 lumber to give a 5.5 inch overhang all around the shed roofing.

Roofing:

3-tab or dimensional shingles.  You can substitute metal roofing if you prefer.



Trim:  1x4 cedar shown in plans but you can use whatever you prefer such as long lasting PVC trim.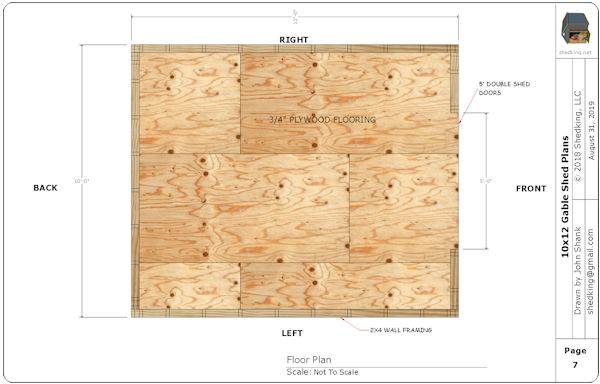 10x12 Gable Shed Floor Plan
Photos from customer's that used my 10x12 gable shed plans: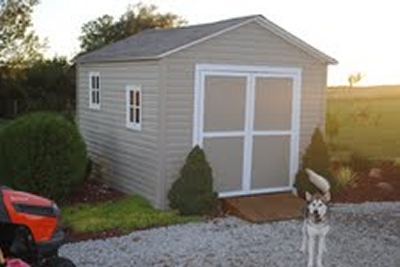 Barry's 10x12 Gable Shed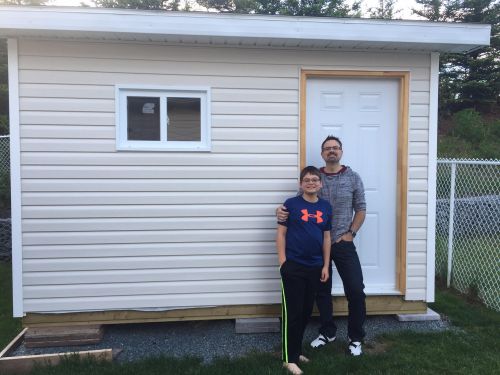 Sean's 10x12 Gable Shed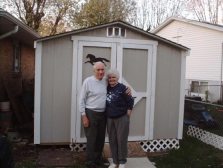 My Mom and Dad's 10x12 Gable Shed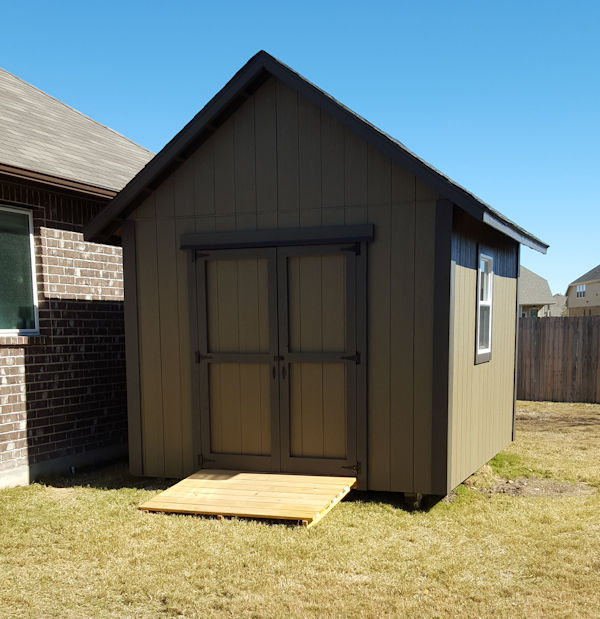 Wig's 10x12 Gable Shed
Some pics of my Dad building his 10x12 Gable shed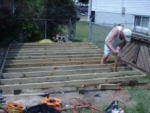 Framing The Floor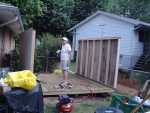 Building The Walls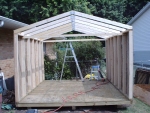 Adding The Pre-built Trusses
---
Return to storage shed plans from gable shed building plans.