Diy 12x16 shed plans and blueprints for backyard sheds
You'll love using these 12x16 shed plans.  Make your diy project easier with building guides that have step by step instructions, blueprints, materials list, and email support from me, John, the shedmaster and owner of shedking.
Please don't be thrown off by the amazingly low price I charge for these premium plans.  If you have any doubts about the authenticity of the plans I sell here, please visit my testimonials page, or my facebook page where lots of satisfied customers have submitted photos and stories of their fun building experiences.

Also if you have any questions please contact me and I'll be happy to answer any questions you may have about any of these plans.

---
Gambrel Style 12x16 Storage Shed Plans

One of my most popular plans, this gambrel roof shed has a 6' wide side porch and roll up shed door for easy access. There's lots of storage space with this shed design.  Learn more about this shed plan.

Gable Style 12x16 Shed Plans

I built this neat garden shed for my wife and it has loads of storage space in the loft area and it made the perfect garden shed for her.  It has 2 shed doors.  One set of double doors on the front, and an entry door in the back. Learn more about this neat garden shed.

Crafted to provide the perfect blend of functionality and style, these blueprints offer a practical solution for your work-from-home needs. Enjoy 192 square feet of personal workspace right in your own backyard. Ideal for professionals seeking a dedicated, peaceful environment while maintaining close proximity to home. Transform your outdoor area and enhance your work-from-home experience with my  12x16 backyard office shed plans.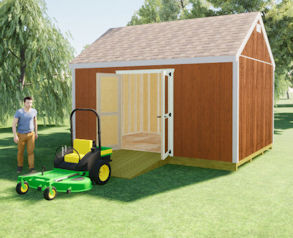 12x16 Gable Shed
  The design of the 12x16 gable shed is classic and highly versatile, allowing it to be used for various purposes, such as storage, garden shed, or a workshop.  With these plans, you can construct a sturdy, functional, and attractive shed that will enhance the utility and aesthetic value of your property. Learn more about these 12x16 gable shed plans here.
Saltbox Style 12x16  Backyard Shed Plan

---
One of the neat things about building a shed this size is that it can be used for just about anything you need be it a workshop, garden shed, chicken coop, playhouse!  The possibilities are endless and the storage space is nothing to sneeze at either!
You can download any of the materials lists for these sheds and take it to your favorite lumber supplier and have them give you a total on the materials.  That way you will know ahead of time just how much your shed will cost to build before the first nail is driven!

Cool Features of my 12x16 Outdoor Plans
Submittable plans that are suitable for submission to your local building department for permits.
Perfect for the diy enthusiast who needs to build a barn shed, gable shed, or just a nice large shed that has plenty of space.
They all come with shopping lists and material list combined together. You can determine the cost of building first by downloading these and looking up the prices.
The 12x16 size will give you enough space and enough room for storing larger items like riding mowers, generators or lots of garden tools.
Most of my plans show LP smartside siding panels for siding but t1-11 siding panels can be used.
Asphalt shingles are the norm for roofing materials with suggested drip edge use.
Email support so your important questions can be answered by a professional shed builder.
The shed framing for all my plans:
Wall framing with wall studs 16" on center.
Wooden floor frame with floor joists 16" on center..
Roof pitch steep enough to prevent water penetration.
Roof framing with rafter designs on some plans with most using pre-built trusses.
Door and window openings with double header framing.
Start Building Your durable backyard shed Today!
From the first step of the project to the last, you'll get it all explained with easy to use comprehensive plans.The plans are an immediate pdf file download after purchase.
Pick the right design suitable for your needs and build the right shed size with the right shed plan and get a professional result in your back yard today.