16x12 Saltbox Shed Plans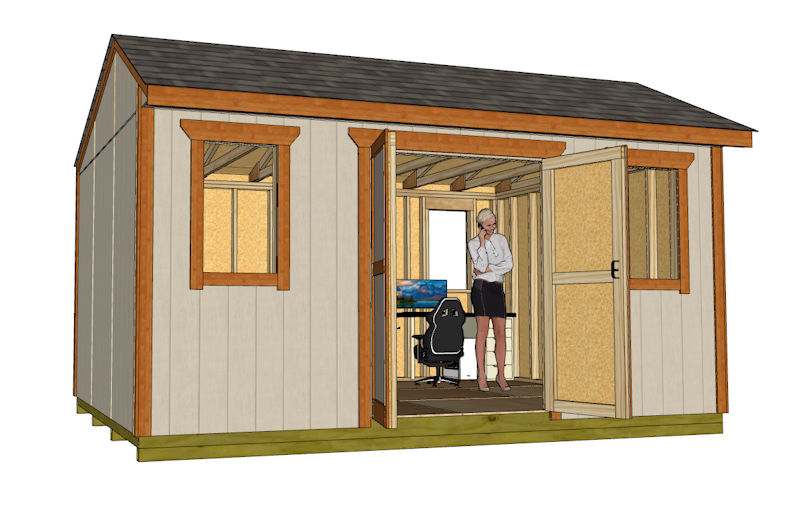 Use My 16x12 Saltbox Plan To Build Your Home Office Shed
Use these 16x12 saltbox shed plans to build the perfect size shed that makes a great garden shed, storage shed, home office shed, she shed, or workshop and craft shed and has lots of space for storing all your garden tools, workshop tools, office furniture and more.

Your instant download comes with a comprehensive building guide and detailed plans,  materials list to use for shopping or handing to your lumber professional for a quick total materials estimate and delivery set-up.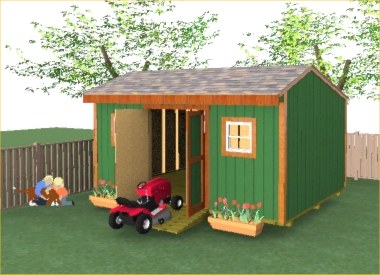 16x12 Saltbox Shed Plans
16' long (door side).
12' Wide.
9.5' to 10' Tall depending on type of foundation you build.
Saltbox style roof.
Floor Joists 12" on center.
Walls and roof framing 2' on center.
Plans recommend LP Smartside pre-primed siding.
This tool shed can be built on a concrete slab, or with a wooden skid foundation resting on a bed of gravel, or a skid foundation anchored to the ground with 4"x4" piers.
These plans show the construction for the latter method using the post and pier anchor method.

---
Your instant download includes all of the following.....
Pages 4-23 Building Guide (sample)
Page 24 Elevation Views
Page 25 Floor Plan
Page 26 Building Section
Page 27 Floor Layout and Framing
Page 28 Front Wall Framing Detail
Page 29 Back Wall Framing Detail
Page 30 Left Wall Framing Detail
Page 31 Right Wall Framing Detail
page 32 Roof Framing
Page 33 Truss Construction
page 34 5' Double Door Construction
page 35 Ramp Construction
page 36-37 Shopping List (use for buying materials)
The 19 page Building Guide Contains all this....

Sturdy Shed Foundations.
Framing The Shed floor.
Front Wall Framing
Building The Doors
Back Wall Framing.
Building The End Walls
Roof Construction
Truss Construction
Sheeting The Roof
Upper End Wall Siding
Adding The Trim
Siding Under The Soffit
Finishing The Roof
Installing The Windows
Finishing Your Shed
---
Some Pictures from Customer's who Purchased these
16'x12' Saltbox Shed Plans:

Calder's 16'x12' Saltbox Shed w/Roll Up Shed Door
Jeff Build a Shed Workshop with these Plans
---
How to Purchase these Plans:
These plans are in pdf format and are instantly downloadable by using the 'Add to Cart' button below.  All purchases are made through paypal and you do not need a paypal account for the purchase.
After buying, you will immediately receive a link to download the plans.  If for some reason you don't get the link then your email has probably treated the link as spam or junk email. 
If you encounter any problems what so ever with getting the link please email me at shedking.net.
I can attach the plans to the reply email for you.

These plans are just $14.95