Diy Storage Shed House Plans
The following storage shed house plans can be used and modified to build yourself a neat shed home, tiny house, or small cabin, or backyard home office, she sheds, studios for musicians, man caves, or even bungalows to house your visiting guests.
If you've got that aging parent or grandparent that needs a place to live, or kids returning home for one reason or another, build it with one of these very affordable and easy to use plans that come with step by step instructions, materials list, and email support from John, the shedmaster and builder at shedking.net.

---
12x16 Barn Style Shed House with Porch

---
12x24  Shed Home with Front Porch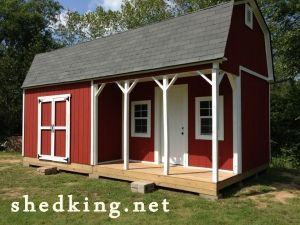 Plans for a 12x24 shed house, small cabin, or tiny house.
This is a 12'x24' barn style shed that has a cute 4'x12' front porch with front entry door, 5' double shed doors which can be removed if you want, and a huge loft area that can be used for sleeping area.  Learn more about these plans here.

---
12x22 Barn Style Shed with Front Porch
12x22 Barn Shed Home with Front Porch
This beautiful 12'x22' barn style shed is the perfect shed for building that shed home or house, or small cabin with loft. The loft goes from one end to the other and is customizable to your liking. You might even end up with extra storage space in the huge loft after setting up everything you need for your bedroom in the loft.   Learn more about the plans for this shed home here.

---
12'x22' Gable Shed Plans with 6' Front Porch
12'x22' Gable With Front Porch

The main area of this 12'x22' gable shed is 12'x16', has 5- 2'x3' windows, 36" front pre-hung entry door, and a 6'x12' front porch.

This is a perfect backyard shed plan with 192 square feet of living space. This shed is a great option if you don'thave the extra space or enough room in your house for those visiting guests. A totally good choice with a unique design to build your gable style backyard shed. The roof pitch of this gabled roof shed is a 9/12 which will make it easier for having more head space in the loft area.

The loft area can be customized any way you want and also extends out above the front porch with windows on either gable end.    Learn more here about these plans.

---
12'x16' Barn Style Shed with Loft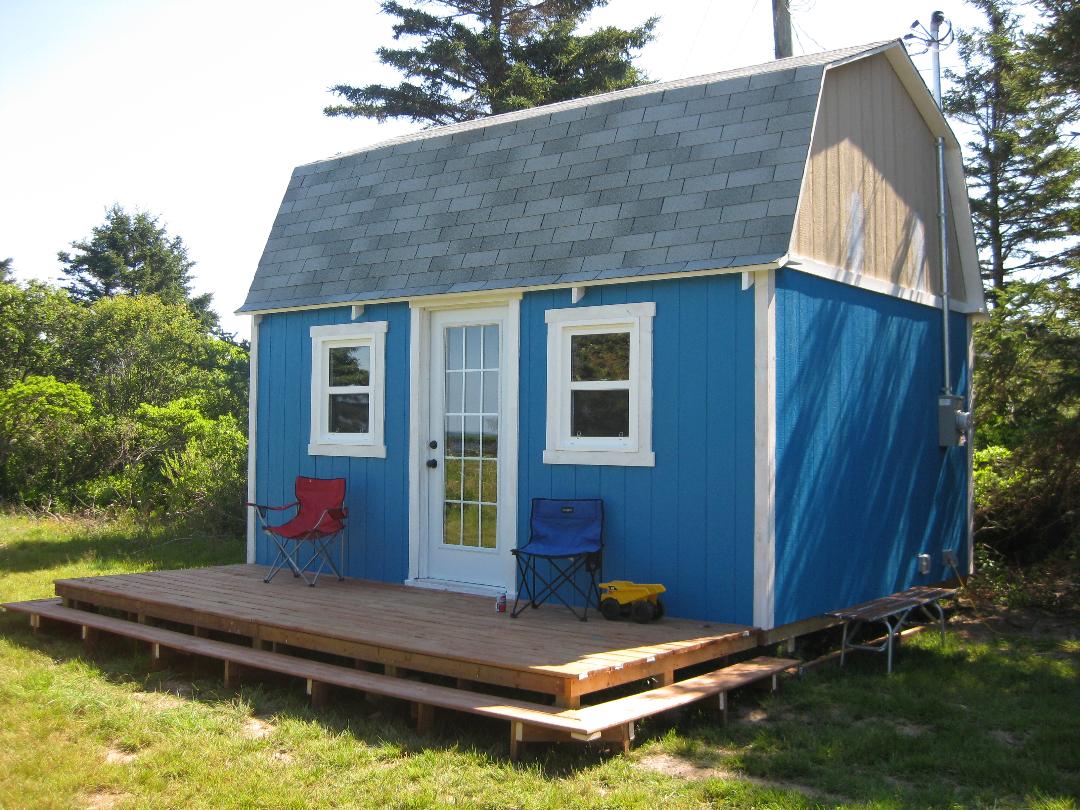 12x16 Barn Shed Home
Here's a 12x16 barn style shed that has a huge loft upstairs and can be used to build a small cabin, shed house, or tiny house. 
It's also perfect for building a craft studio or home office in the backyard.

The one nice attribute about these shed homes, houses, tiny houses or small cabins you can build with these plans is that they all have huge lofts.  Typically the loft area can be used and modified to suit your needs for sleeping areas, especially with the gambrel style roof that offers lots of headroom space because of the truss design.

My detailed shed plans with detailed drawings come with all the following:


 My diy shed plans that I have for building make your dreams of living tiny both easy and affordable. You don't need a professional builder!
These premium shed plans will make it easy for you to build your new shed and they all come with the following:
Instant download in pdf format.
Detailed building guides.
Easy to understand construction plans that are in full color and detailed.
Materials list for shopping and to use while building.
Email support from John, the shedmaster and owner of shedking.
Free cupola plan with your purchase.

 All you need is a small space in your backyard!
You can build and design your floor plan any way you wish.

Add a small kitchen, bathroom with shower and toilet, and a customized sleeping area in the spacious loft areas. Add or remove doors and windows and place anywhere you want with detailed information on this in the building guide.

These shed building plans show wooden floors but are easily adaptable to building on a same size concrete slab. 
Check the construction costs before you build your great shed!
You can download for free a complete list of materials needed to build these sheds. Visit this page on my site to download any of the materials lists.
The right shed plans!
If you have arrived to my site searching for storage shed house plans I appreciate your taking the time to read this far down. I do not offer free shed plans and as you may have noticed on many of the other sites that have a free plan for building a storage shed - you can't use them to get a permit and they have many of the dimensions omitted.  
I have tried to make the entire process of building your shed house an easy one. I am always available to answer any questions about any of my premium plans before you make the purchase of any of my backyard storage shed plans.  Just use the 'contact me' button in the menu at the top of the page. I'll do my best at making good things happen for you in your quest to build a house from a storage shed!
---