12x24 Barn with Porch Plans
12x24 Barn with Porch Plans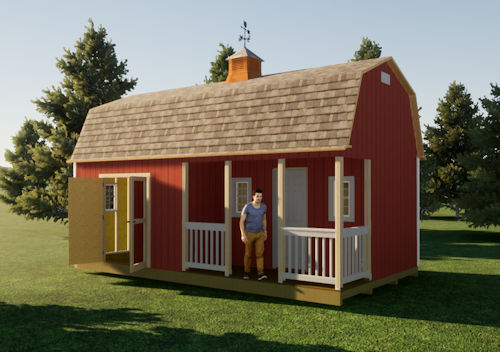 12'x24' Barn With Porch Plans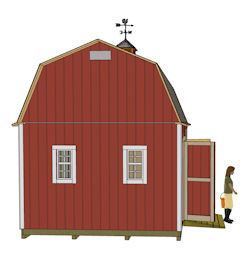 Left Side View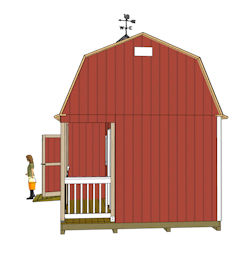 Right Side View
12x24 Barn Details..

Dimensions
12' wide x 24' long x 14' 9-11/16" tall.
Floor
Treated 2x6's spaced 12" on center with 4  4"x4" treated support skids.

Floor sheeted with 3/4" treated plywood but can be regular plywood.
Walls
2x4 wall framing spaced 16" on center with 7' 11.5" interior wall height.

Siding shown with plans is 7/16" LP Smartside siding panels.

Use cedar trim, pvc trim, or trim of your choice.  Plans show cedar trim on roof, doors, and corners.
Roof
Framed with customer built 2x4 gambrel trusses spaced 24" on center.

Roof sheeted with 7/16" osb or plywood sheeting. Plans show shingled roof with option of using 3-tab or dimensional shingles.
Loft
Interior headroom of 4' 7-1/4" headroom off loft floor. You can purchase optional taller trusses that will provide around 6' headroom off loft floor.

Doors and Windows
Front wall has 5' wide by 6'5" tall double shed doors on left side.  The right side has a 32" pre-hung entry door with 2  14"x27" windows.  Left end has 2  14"x27" windows.

Special Features
Front porch with dimensions of 12' long x 4' wide. This shed can easily be framed without the porch to have a bigger shed on the inside.

What can you use this 12x24 barn shed for?

Use these 12x24 barn plans to build yourself a super size storage shed, shed home, tiny house, small cabin, craft studio, or backyard home office.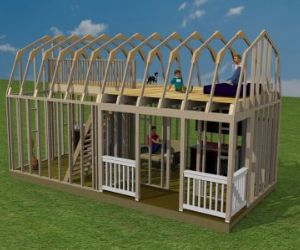 Build a Shed Home or Small Cabin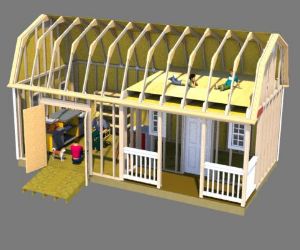 Room for A Workshop and Playhouse
Your 12x24 barn plans include all this..

Your instant download of these 12x24 barn plans come with all this:
17 page Comprehensive and detailed building guide.

23 pages of blueprints

Materials Lists

Front Porch Framing

Window Framing

Loft Framing

Ramp Building Details

Email Support

---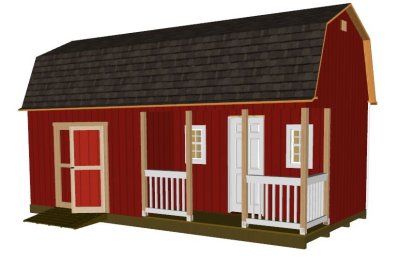 Build a Tiny House with these 12x24 barn plans!
Our Interactive 3d pdf file mentioned above allows you to zoom in, pan, and rotate to see all building aspects of this barn. This is really cool if you have a question about or are not sure about a particular building aspect of the plans.

You can zoom in on the door framing, porch framing, loft framing. Or check out the detailed graphics of anchoring your trusses down with hurrican ties!

The detail is tremendous with this interactive file and its all included with your instant download. In order to view you should have the latest update version of adobe acrobat.

Check out my video on you tube of this 12x24 Barn.

Show below are a few samples of the plans you get with your 12x24 barn plans download. All phases of the construction of this small barn are in full color and are full pages of detail.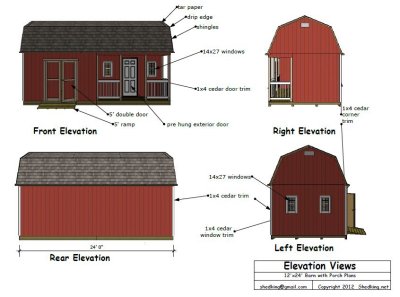 Elevation Views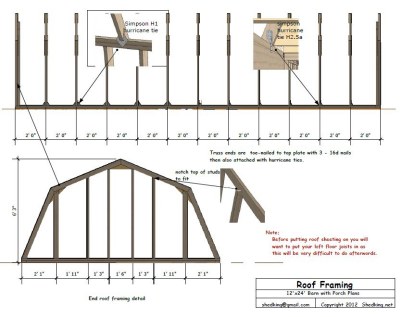 Detailed Roof Truss Framing
This small barn has plans for building a huge loft in the storage area. If you chose to this barn could even be used for building a nice small home and you could have your sleeping bed located in the loft area.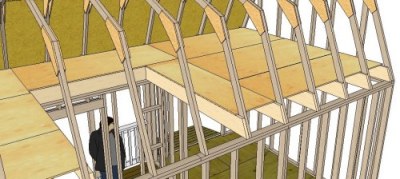 Big loft for lots of storage.
Your instant download for $24.95 is in pdf format and you should have the latest version of adobe pdf reader to view the interactive pdf file included with the plans.

You can purchase and download the 12x24 barn plans through paypal with the Add To Cart button below. Please make sure to be able to receive email from shedking.net and e-junkie.com. If you don't immediately get the instant email with download link check your junk or spam email folder.

If this still doesn't work, please email me right away and I will send the plans as an attachment to your email address.

Emailed Plans $24.95

---
Some pictures from customers who used my 12x24 barn plans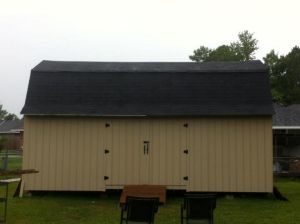 Charle's 12x24 Barn Shed
Charles's used the plans to build his 12x24 barn.  The amount of storage space in this shed is huge!  Charles modified the plans somewhat and did away with the front side porch and front double shed doors.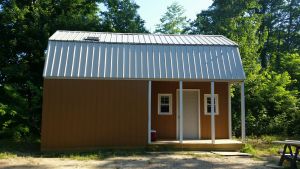 Tracey's 12x24 Small Cabin
Tracey and his wife used my 12x24 barn plans to build this small cabin in the woods.  The loft area in this shed is huge and makes for a nice sized bedroom.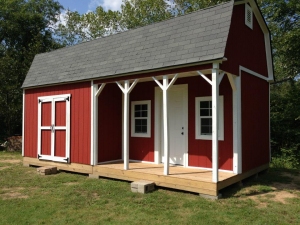 Neat barn built using my 12x24 barn plans
This is exactly how your barn shed will turn out by using my 12x24 barn plans.  A nice front porch, 5' wide double shed doors, huge loft area, and large floor space downstairs to use for your workshop, craft studio, tiny house, small cabin, or backyard home office.

If you build this neat barn, don't forget to email me your pictures! Thanks for visiting my site.


---