What is a shed house?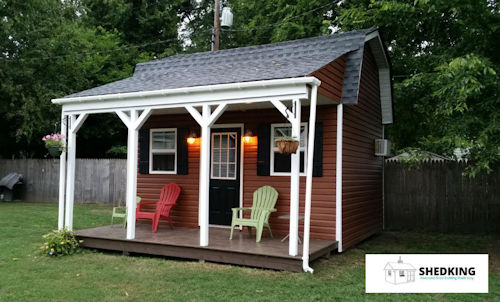 A 12x16 Barn Style Shed House with Porch
You may be in the market to build or even convert a shed into a house and your asking the question: "What is a shed house?"
A shed house can be an existing shed converted into a shed house, or it can be a brand spanking new shed built for that purpose - a shed built to be a house!
What's necessary for a shed to be a 'shed house?'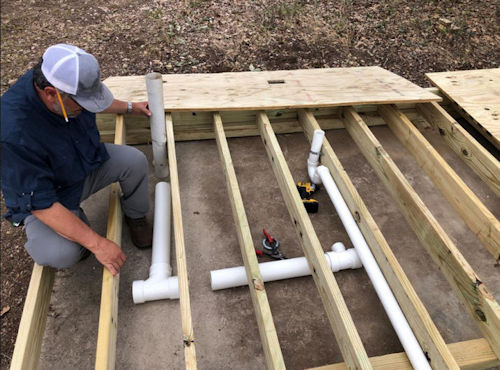 Plumbing In a Shed House
Think of the house you live in.  It has all of the following:
Electricity
Plumbing
Heat
Kitchen
Bathroom(s)
Bedroom(s)
Doors and windows
Insulation
Finished walls and ceiling

Permits are a must for your new shed house!
That being said, you should have all of the items in the list above in order to convert or build a shed house.  It may be a task for a professional to do and is going to necessitate applying for a permit.  You'll want this new or converted shed to be properly built or modified to be a safe structure to live in so getting a permit is an absolute must!
Or you may be quite the handyman who is ready to take on the challenge of doing all of the above!  It is indeed very possible for the diy'r to do all of the above and by getting a permit the building inspector(s) is going to make sure that everything passes inspections by being up to code.  If you have items that need to be corrected to bring your shed house up to code, the building inspector will make notations on the building plans for those improper items to be brought up to code.
It may be that you can do all the necessary framing and adding of doors and windows and sub contract ( hire professionals) out the mechanicals like electricity and plumbing and heating and air (hvac).  Each of those tasks has a separate permit to be obtained and is also an individual charge for each one.
Shed houses can be accessory dwelling units
It used to be that adding on a backyard shed to be a shed house or tiny house was just not permitted.  Times have changed in the recent years and codes have been adjusted to allow for what's known as an 'Accessory Dwelling Unit' or 'ADU' for short.
The cost of housing has exploded across the country.   In response to this many states across the country have adopted new rules and regulations to allow for the building of accessory dwelling units.  Accessory dwelling units are liveable structures on an existing property that has a single family home on it already and can be any of the following:
Detached ADU
Attached ADU
Attached above garage ADU
Interior upper floor ADU
Interior basement ADU
Interior upper floor ADU
For the purposes of this page on my site about what a shed house is, we are going to be concentrating on it being a 'detached ADU'.

Detached ADU
How to turn a shed into a house
One of the most important things to consider when tackling the possibility of building a shed house or turning  an existing storage shed into a house is to have a good set of plans to submit to your local building inspector.
These plans will have to include location on your lot such as providing a lot plan if the ADU is to be detached and it's location to property boundary lines, and to the single family dwelling located on the property.  If it is an ADU that is attached to the existing house, then that information will have to be supplied as well.
Most generally additional pages to be included with the building plans to be submitted to your building inspector for a permit will have to include the following:
Plan view
Floor Plan
Elevation views
Framing details
Door and window locations with sizes and types
Interior finishes
Roof details
Insulation details
Rough and finish plumbing details
Rough and finish electrical details
HVAC details
Ventilation details
Shed House with Stairway to Bedroom In The Loft
In addition to the above, your building inspection department may require you to provide an engineers stamp on the plans showing such things as roof and floor loads and also the specs for trusses or roof framing with rafters.  This will be an additional expense over and above the cost of having an architect or shed designer do up the plans for you.  It may be well worth the additional money spent and even if your building inspection department doesn't require it, I would suggest having it done!  I always say better safe than sorry when it comes to converting a shed to a house.
What does it cost to build a shed house?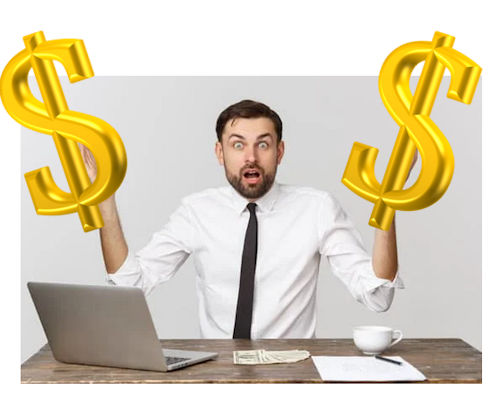 What Does It Cost To Build A Shed House?
Building a shed house can be a great way to add extra space or make use of a large backyard. But before you start building, it's important to know how much it will cost. The cost to build a shed house depends on a few factors, including the size of the shed, the materials used, and any additional features you might add. The most basic shed house could cost as little as $2,000, while a more complex one could cost up to $10,000 or more. The cost of materials is usually the largest expense, so it's important to select high-quality materials that are built to last. If you're looking to save money, you could build the shed yourself, or you could hire a contractor to do the work for you. However, this will add to the overall cost of the project. Ultimately, the cost to build a shed house depends on your exact needs, but with some careful planning, you can build a nice shed that can be used as a guest house, granny flat, or backyard shed house, or as a rental airbnb, for a reasonable price!  Here's a more in-depth review of how much it costs to build a shed house.
Build Your Own Shed House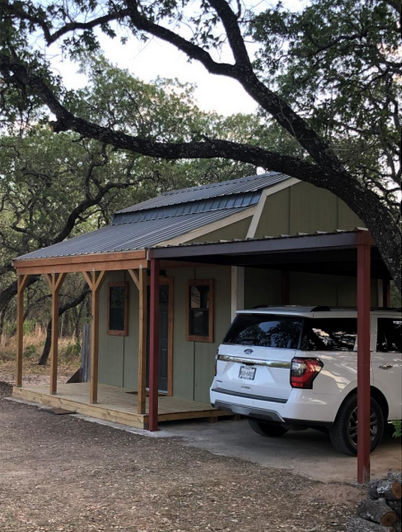 The Gray's Used My 12x16 Barn Plans For Their Guest House
I have a collection of plans you can use for building your shed house.  Check them out here.