Cabin Building with 3d Models

Make your cabin building experience easier with these interactive 3d cabin models.  Explore your cabin using virtual reality, augmented reality with vivid detail.  When you start your project, come back to this page using your smart phone to easily explore all the details in 3d to help clear up any confusion you might have about things like truss construction, door and window framing, roof framing etc.

How to view the cabin building models in 3d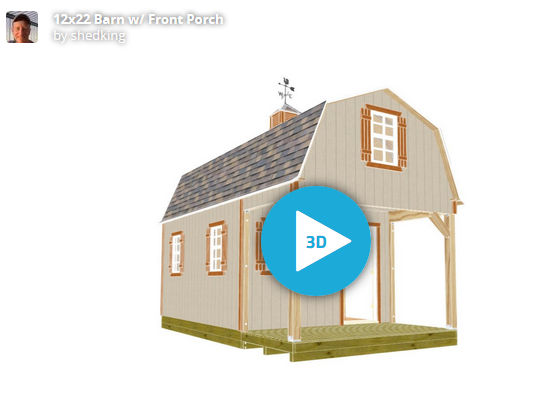 3d Cabin Building Models
To view the interactive 3d cabin building models below click on the arrow. This will allow you to view the model in stunning detail on your computer or any device.

---
12' x 22' Barn style cabin with front porch

Use the plans to build a tiny house, shed house, backyard home office, studio, she shed or small cabin.
The main living area is 12'x16', and the huge loft is actually 12'x22'.  Relax on the 12'x6' front porch with your favorite beverage.
You can learn more about these plans by clicking here.

---
12' x 24' Barn style cabin with front side porch

Cabin building has never been easier than with these 12' x 24' barn style shed plans.  This plan will help you build a cabin that has a huge loft area that can accomodate sleeping quarters and sitting area looking down over the main living space.
A nice front side porch is great for sitting out with family and your favorite beverage.
Learn more about how to build this small cabin by clicking here.

---
12' x 16' Barn with side porch
This 12' x 16' barn with 6' x 16' side porch is the perfect size for building your small cabin with loft.  The building plans show roll up shed door on the end with an entry door off the porch.  The plans for this shed can easily be modified by adding windows or by removing the roll up door and just having a solid wall.  Learn more about these plans by clicking here.