12x16 Gable Storage Shed Plans :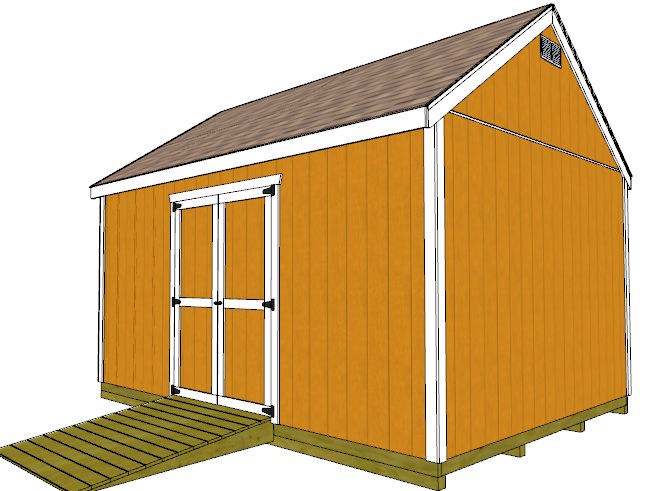 Start Building Today!
Purchase For $19.95
Your Immediate Download in pdf format includes:




30 Day Money Back Guarantee
23 Pages of Building Blueprints
61 Page Gable Building Guide
Materials List
Free Cupola Plans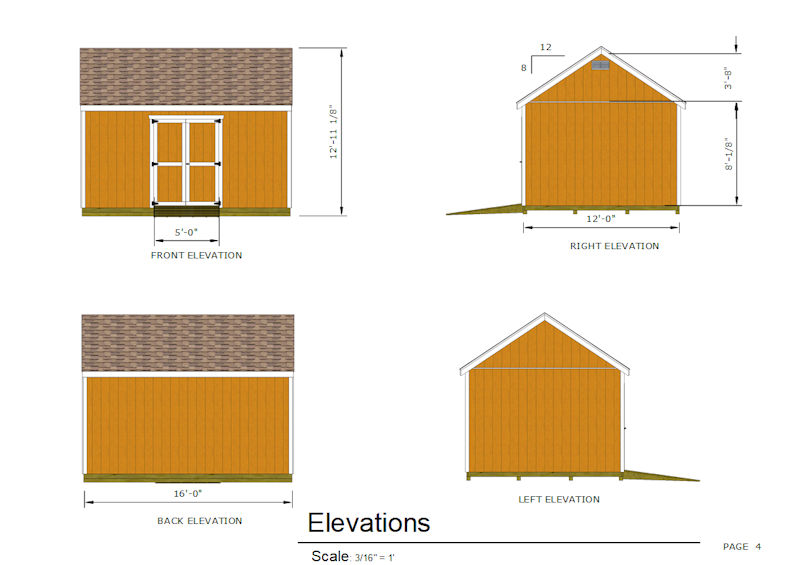 12x16 Gable Front, Back, Left, and Right Elevations
Check out the features of this 12x16 gable shed

Dimensions

12' wide x 16' long x 12' 11" high
Shed Floor
Treated 2x6's spaced 16" on center with 4 -4"x4" pressure treated support skids.
Plans show floor with concrete pier anchors and support blocking.
Floor sheeted with 3/4" regular plywood but can be pressure treated plywood.
You have the option of going with a concrete shed floor if desired.
Shed Walls
2x4 wall framing spaced 16" on center with 7' 10" interior wall height.
Siding shown with plans is 7/16" LP Smartside siding panels. You may use lap siding if preferred buy must first cover wall framing with 1/2" osb or plywood first.  This is not shown in the plans.
Use cedar trim, pvc trim, or trim of your choice.  Plans show white trim on roof and corners and door trim.
Customer built 5' wide double shed doors. 
Shed Roof
8/12 Roof pitch
Framed with customer built 2x4 framed gable trusses 24" on center.   

Roof sheeted with 7/16" osb or plywood sheeting. Plans show shingled roof with option of using 3-tab or dimensional shingles.
Loft
Loft/ceiling joists are 2x8's spaced 24" on center.
Loft floor sheeted with 3/4" plywood sheeting but may be 3/4" OSB.
Getting a permit:
I always recommend getting a building permit with any of my shed plans.  If your building department requires an engineers stamp for the approval of getting a permit, then you will have to submit the plans to a local structural engineer.  I do not provide those calculations with my plans.
What you will get with your shed plan download:
Instantly downloadable 8.5"x11" pdf file that includes:
23 pages of professionally drawn blueprints that are easy to follow for the diy shed builder.
Materials list to use for shopping and building.
Free construction guide for building gable shed.
Email support from John, the designer of these shed plans.
Look at the materials list for the 12x16 gable shed plans featured here now: