12x16 Gable Storage Shed Plans
with 6' Roll Up Shed Door

View This 12x16 Gable Shed with Roll Up Door in 3d:

Use your mouse (or finger if on mobile phone or pad) to go inside or walk around the shed.

Use your left mouse button to rotate the shed
Use your mouse scroll wheel to zoom in or out.

---
Shed Specifics: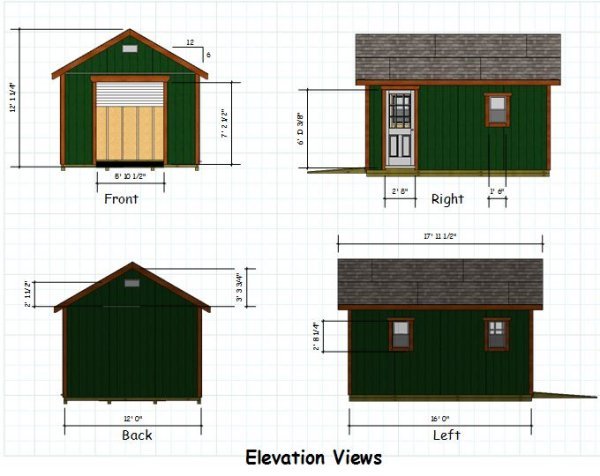 Storage Shed Plans for a 12x16 Gable Shed
This 12x16 Gable storage shed has the following features:
Gable style roof with a 6/12 pitch

Shed roof framed with pre-built trusses

Treated 2x6 floor with joists 12" on center

2x4 wall construction with 16" on center wall studs

6' wide x 7' tall roll up shed door (or frame for a different size door if you prefer!)

32" side pre-hung entry door

3 - 18"x27" windows

Smartside siding (optional - use your choice of siding)

7'-11.5" inside wall height

Shingled roof

Shed ramp

Cedar Trim

---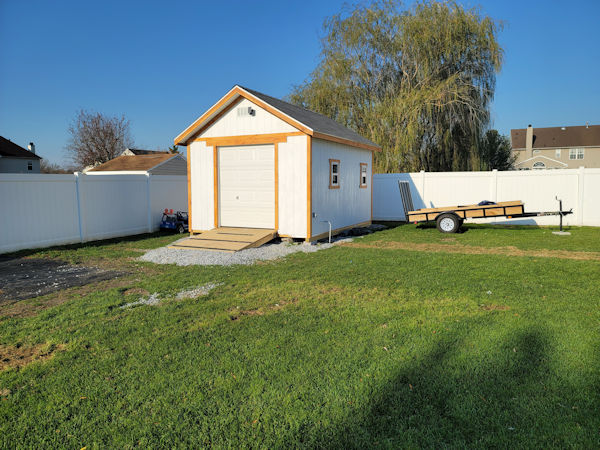 My 12x16 Gable w/Roll Up Shed Door built by a Customer from New Jersey
---
Watch the assembly process of this 12x16 Gable Storage Shed
These plans are very detailed and I have tried to make every phase of the construction process as easy as possible for the diy shed builder. Here's an example below of one of the plan pages that features an isometric view of the shed with all the parts and pieces labeled.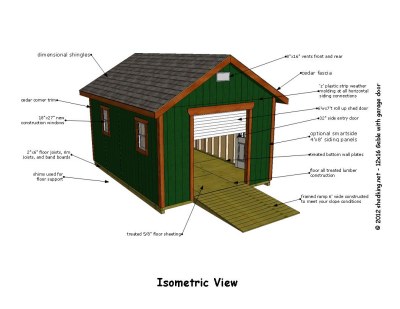 Your shed plan download includes full page diagrams of the following:
Elevation Views

Floor Layout

Isometric View

Building Section

Floor Framing

Front, right, left, and back wall framing

Truss construction diagrams

Roof Framing

Ramp Detail

Shelving Detail

Eave and overhang/lookout construction detail

Roof sheeting detail

Framing for shed windows
Nailing schedule for shed construction phases
Included with the plans is a materials list that is broken down by project phase and gives grand totals on all materials needed. Just take this list to your favorite lumber store and have them give you a quote.

Or, take this shed materials list to more than one lumber supply store and get several estimates and go with the best price estimate!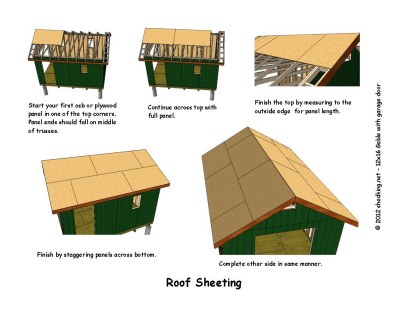 Roof sheeting layout plans page sample
Purchasing These 12x16 Gable Shed Plans with Garage Door.

Your plan purchase also includes email support from me, John, the shedmaster here at shedking.net. You can contact me with any questions you have about anything associated with the construction of this backyard shed and I will be happy to answer it for you.

Plans are available for immediate download after purchasing through paypal and are in pdf format. Please make sure your email service will accept email from shedking.net or e-junkie.com, our company we use that will email you the automatic download link for your shed plans.

Purchase for $14.95 can be made securely through paypal by using the 'Add to Cart' button below.
You do not need a paypal account.