10x16 Gable Shed Plans with 2 options:

You'll have fun using these 10x16 gable shed plans.  These plans have 2 options: building your shed doors on the short end wall, or placing them on the 16' long shed wall.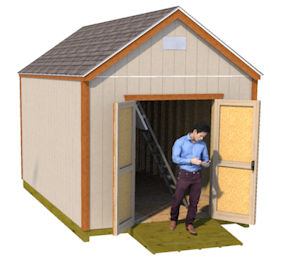 Doors On End Wall Option
Doors On Long Wall Option
10x16 Gable Shed Details:
When you build using these 10x16 gable shed  plans you will have a neat storage shed with the following:

Gable style shed roof with a 6/12 roof pitch.

10' wide, 16' long, and 12' 3.75" tall (ground to roof peak).
5' wide by 6'8" tall double shed doors on either wall.
Long wall with doors also has 2 window that are 18"x27".

7'10.5"  interior wall height.
11' 5" exterior height from bottom of floor framing to roof peak.

Option to frame loft any way you want.
2.5' loft height off loft floor to inside roof peak.

Wooden floor framing with 2x6 treated floor joists 16" on center.
2x4 wall framing 16" on center.
2x4 truss construction spaced 24" on cente.r
Plans show LP 1/2" Smartside siding panels however you may use siding of your choice.  If you prefer to go with lap siding you will have to sheet the walls first with 1/2" osb.

optional 5' wide shed ramp.
Use cedar trim, pvc trim, or trim of your choice.  Plans show cedar trim on roof, doors, and corners.

Purchase these 10x16 gable shed plans below..

(You'll also get FREE Cupola Plans with your purchase!)
Immediately after purchasing you will receive an email with a link to download the plans.  Also in this email will be a code to use for downloading the free cupola plans that come with your purchase.
If for any reason you have difficulties getting the email with the download link it is possible the email went into your junk or spam email folder.  If this is not the case please contact me right away and I will send both plans as an attachment to a return email to you.

---
Place your cursor in either one of the models below and click inside.  You can rotate around and walk inside, go up in the loft, or just check out how this 10x16 gable shed is framed up. Zoom in for greater detail.

Explore this 10x16 gable shed in 3d before buying the plans:

With the doors on the end wall option:

With the doors on the long wall option:

What you'll receive with your instant download:

Adobe pdf file with 33 pages of shed plans.
61 page Gable shed building construction guide. (download it now)
2 Materials list divided into shed building phases for ease of understanding.  One list is for the doors on the short end wall, and one material list is for placing the doors and 2 windows on the long wall. (door on end wall material list) (door on long wall materials list).
Email support from the developer of these shed plans for any questions you may have.
Here's a list of the blueprint pages:

10x16 Gable Shed Plans Table of Contents
Get Free Cupola Plans with Your Download..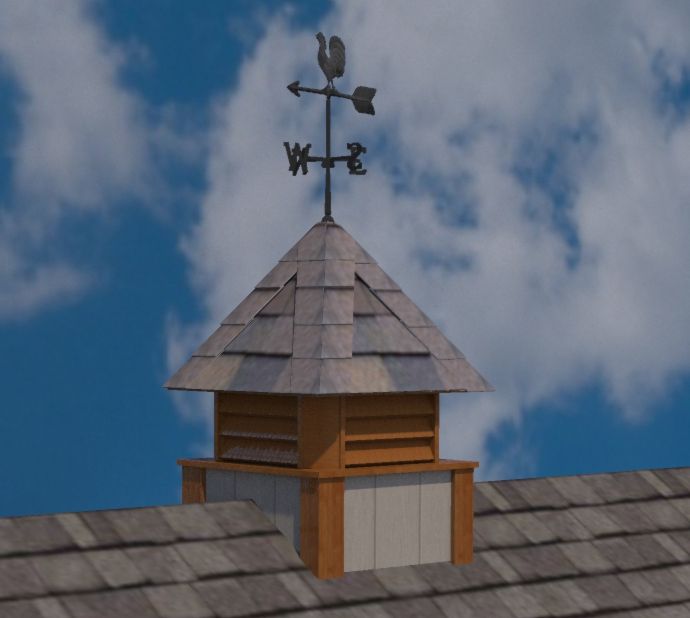 Free Cupola Plans with Purchase
---