What's Another name for she shed?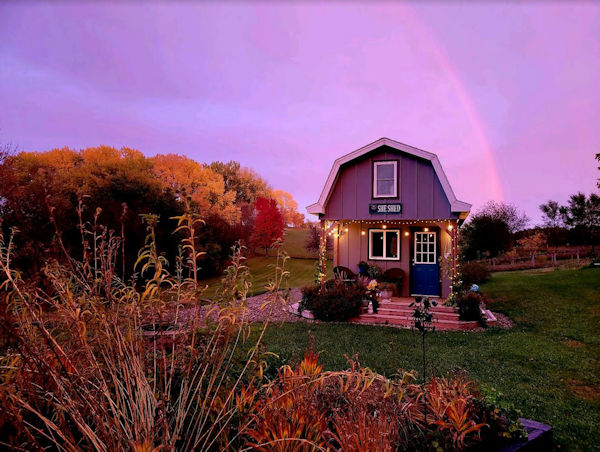 My Rainbow Shed - Another Name for She Shed
Did you know there are many other names these delightful little retreats go by? One such name is 'Babe Cave' – sounds so chic, right? It's a cheeky take on 'man cave' and gives you the idea that it's meant to be a fun, personalized space.
Just like a man's 'man cave' represents his personal retreat, a she shed is a woman's dedicated space. It is her tranquil corner to escape from the usual hustle and bustle, a haven of comfort and creativity, which is becoming increasingly popular in home improvement stores, like Home Depot.
She sheds can be your fun personalized space

Some call it a 'Woman Cave,' which is also similar to a man cave. It gives off a sense of power and domination. Furthermore, it reaffirms the need of all adult women to have a private sanctuary apart from the main home.
Let's get a little quirky and talk about 'Lady Lair.' This is more than just a she shed; it's a lady's fortress. And as we all are aware, every fortress is a symbol of sovereignty and privacy - two things that we all crave.
Now, if you're thinking 'what is a she shed?', hold on to your seats. It's a separate space, conceptually similar to the tiny houses trend, except it's right in your own backyard or a spare room.
Typically, a she shed is a small building or converted shed separate from the main home. Imagine, a quaint little house, painted in your favorite color, and filled with your favorite activities. Now that's what you call a 'favorite place,' another feel-good term for a she shed.
The phenomenon has grown so popular that we now have dedicated 'She Shed Facebook Groups' and gatherings. There, budding DIY enthusiasts and experienced home designers share their take on she sheds or 'small building' designs.
Maybe your she shed is inside?
Not everyone has the luxury of a small building or a dedicated space outside their home. There's no reason to despair, though. You can convert a spare room in the house into your she shed; hence it's often known as the 'Room of Your Own,' highlighting its exclusivity.
What's adorable is that some people are experimenting with vintage travel trailers and converting them into tiny homes or she sheds. It's a fantastic example of finding new ways to create your little hideaways.
Alternatively, a she shed can be called an 'Art Studio' if it's dedicated to crafting, painting, or any other similar hobbies. It's your own artistic sanctuary where creativity blooms, away from the disturbances of phone calls or any other household chores.
Some she shed name ideas also borrow terms from traditional small buildings such as 'Potting Shed' or 'Tool Shed.' The difference lies in the purpose - rather than being a storehouse, it now becomes a retreat.
Ge creative for another name for she shed!

For bookworms, a commonly used synonymous term is 'Zen Writing Cottage' where you can quietly read your favorite books or express your thoughts freely, making it a great place to refresh and recharge.
And sometimes, the term 'she shed' is playfully replaced with 'Part of The House.' It's a bit amusing because the very purpose of she shed is to have something apart from the rest of the house, representing a clear separation for personal space.
Sounds like a great DIY project, doesn't it? It sure is but remember, before you start converting your existing structure into a she shed, ensure you have necessary permits and rights to do so. You wouldn't want to disappoint potential buyers, if you ever think of selling your home, due to non-compliant structures.
With all these creative names, it's evident how women are setting new rules to claim their personal space. That's why; these names emphasize the necessity for a peaceful haven, away from mundane life and chores.
Talking about the exciting 'she shed trend,' let's not forget its enigmatic cousin - 'Tiny Houses'. Filled with creativity and charm, these are more permanent and are taking the world by storm, spotting similarities with she sheds.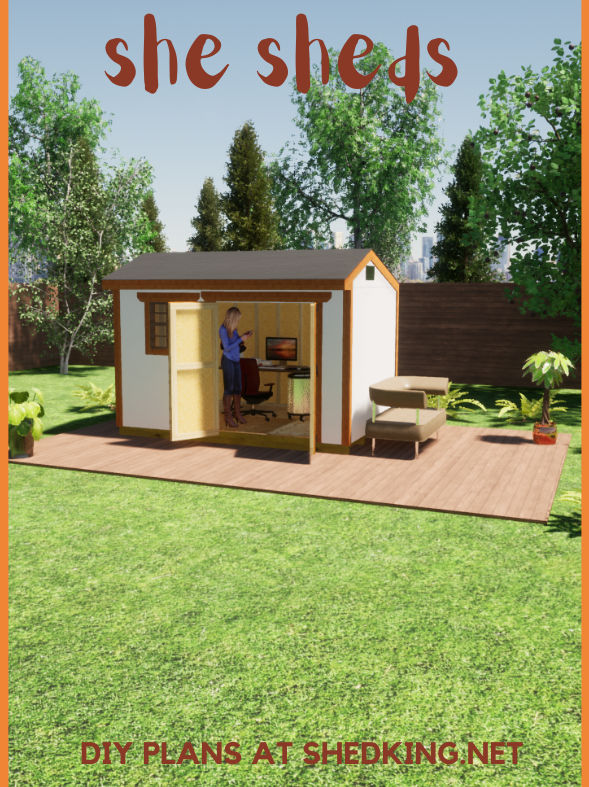 Your she shed can be a 'shed office' too!
Here's an 'attractive' name for she shed
One of my favorite synonyms is the 'Boudoir', a French term translating to a woman's private sitting room or salon. Although it initially referred to an indoor photography studio for women in lingerie, the term's elegant connotations make it an attractive name for a she shed.

Expressing the idea a little differently, you could call your she shed 'Your Corner.' It's simple, straightforward, and captures the 'me-time' concept perfectly. Just the thought of having a corner of your own is heartwarming, right?
Here's to collecting more names in the future, justifying the she shed as a place for you to take a break, pause, think, create and most importantly, be yourself.
So, which one is your favorite amongst these? Does your existing or soon-to-be-up 'she shed' have a special name? If it were up to me, I'd call mine the 'Serenity Spot,' a place where I can relax with a glass of wine and escape the rest of the world for a while.
Nice looking 'Lady's Lair' or 'Boudoir'!
She sheds provide personal space and mental well-being!
With the growing popularity of she sheds (or whatever their unique names might be!), it's evident that women are carving their sanctuaries in the form of these tiny structures. It's a clear indication of the importance of personal space and mental well-being.
Perhaps, you've already embarked on your she shed journey, or perhaps you're still contemplating. Regardless, having a space to call your own, be it a converted shed or tiny home, can work wonders for your mental and emotional state.
With she sheds fostering the spirit of DIY projects, you can get creative with the materials and designs. It could also include outdoor seating to soak some sun while reading a book or sipping tea.
Remember, whether it's a 'Babe Cave,' 'Lady Lair,' 'Woman Cave,' 'Room Of Your Own,' 'Art Studio,' or 'Zen Writing Cottage,' the essence remains the same. A she shed is your haven, customized to your style and preferences.
She sheds can become your peaceful sanctuary

While the term 'she shed' is already a delightful play on words, these creative names add an extra layer of personality and meaning. A potting shed can become a DIY center, a tool shed could become a painting studio, and a favorite place becomes your peaceful sanctuary.
The important thing is to remember that the actual term doesn't matter, whether it's called a she shed or a babe cave. What matters is that it gives you a comfortable spot that aids productivity, creativity, and most importantly, a sense of serenity.
So, what will be the unique name of your cozy dwelling? Perhaps you've already named it, or maybe you're still in search of the perfect moniker.
No matter what you call it or how you design it, a she shed is a testament to the individual, to the creative, and to the one who dares to dream. Your she shed is entirely yours, and that's what makes it special.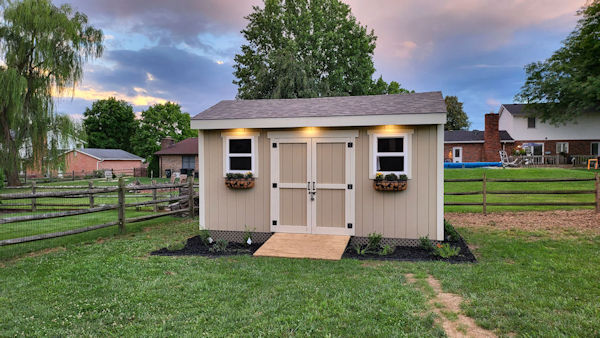 Another name for she shed could be'Garden shed'.
I hope all these names for she sheds have started to stir some creativity in you. It's time to make your space truly yours. May your she shed be an exclusive corner of happiness, rejuvenation, and serenity.

The idea of a she shed, or whatever you wish to name it, is a beautiful testament of self-care and individuality, and it's captivating people across the world.
So, go ahead and build your dream she shed; give it a name that resonates with your soul. Remember, it is more than just four walls and a roof; it's a statement of your personality.
Please share with us your she shed name ideas, or if you've already named your shed, kindly enlighten us with its name. We'd love to hear all your creative and charming names. Happy 'she shedding,' my friends!
Another name for she shed - here's my list:

Woman cave
Lady lounge
Femme Den
Girl grotto
Dame dugout
Chick chalet
Sister sanctuary
Madam manner
She shack
Diva den
Belle bunker
Maiden mansion
Queen cave
Gal garage
Female fort
Matron manner
Wife's workshop
She studio
Lady lair
Girl cave
Woman's workshop
Femme fortress
Creativity cabin
Sister shed
Hobby hut
Tranquility teepee
Lady's loft
Creatrix cabin
Boudoir
Babe cave
Woman cave
Zen writing college
Rainbow shed
Her snuggery
Cougar cave
Ma'am cabin
Karma cabin
Wine haven
The nook
Remember, the most important thing about a "She Shed" is that it's a personalized, dedicated space for the woman of the house to enjoy her hobbies, rest, or work in peace and solitude.
If you can think of 'Another name for she shed' send it my way.