Shed Doors and How to Build Them
Shed doors can either be pre-hung or custom built. All the methods below are for homemade shed doors and are simple designs using basic materials.
Double Shed Doors
Here's one of the easiest ways I have use to build double shed doors. You can use this method while installing your shed siding. Build up to 6' wide doors using this technique.
Another Shed Door Method
Use this method to build your shed doors if you are siding your walls before standing them up. This is a little more complicated then the method listed above. When I built sheds professionally this is the method I used because it allowed me to already have my doors built and have them ready on the job site.
Here's the construction guide for you.
Single Shed Doors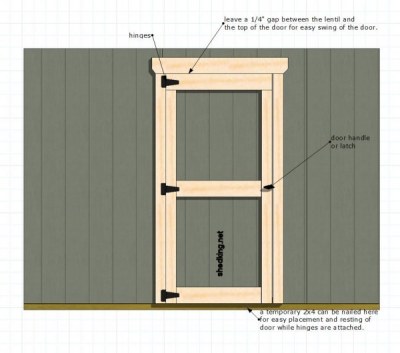 This method is really simple and can be used for building small or large single swing shed doors up to 3' wide.
Check out this contruction guide for building a single shed door.
Shed Door Hardware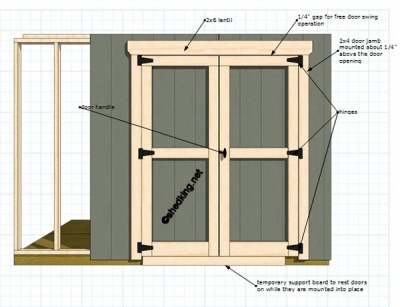 Most shed door hardware can be purchased at your local hardware store, except for these really cool 'd' shed door handles.
You can find them here along with other hardware for shed doors.
I would be happy to answer your questions about building shed doors.
Please ask the shedmaster...
What Other Visitors Have asked
Click below to see questions from other visitors to this page...

Making shed doors last in the rain.

I have a lean to shed that sits on the ground. There is a cement pad underneath. The overhang of the roof is insufficient and the shed doors get wet, …
Building a Shed Door with 'z' frame

I want a nice looking z frame exterior wood door that opens top and bottom with some nice black hardware- I have no idea on building the correct way..?? …
Warping plywood shed doors

I had a workman build a pair of shed doors to replace an ill-fitting garage door in my old barn installed by a previous owner. They look very nice, …
2x4s for the Shed Doors

Hi John, Great article on the shed doors! Now for my dumb question... Do you use treated 2x4s for the doors or "regular" ones and paint 'em up good? …
Building out the door header Not rated yet
Robs Question: I'm building your 10X12 Saltbox shed and I don't understand why I have to build the header 1/2" thicker than the frame. Also, which …
Material for Shed Doors Not rated yet
What material should I make my shed doors out of? Right now I have T1-11 siding with 2x4 behind it for support but it's warped really bad.
Shed Door Sizes? Not rated yet
I built a lean to on my home and I cant figure out how to go about putting a door or doors on it. The opening is 4 feet and framed out of 2X4s. How …
By John Shank, Copyright&copy Shedking.net 2004-2013.