Roll Up Shed Doors

Make Your Shed Awesome with A Roll Up Shed Door!

Roll up shed doors are one of the neatest styles of doors you can add to your shed.  It's like having a mini garage!

Building your awesome shed like the one above using a door that rolls up will make moving mowers, outdoor recreational stuff, boats, etc. a real easy task.

Framing for this style of shed door is not hard, and is just a simple matter of following the manufactures guidelines for framing.  You will want to wait before framing your shed until you have purchased your  door.   This is an absolute must!

You can even use standard garage doors too!  As shown in the picture above, a 12' wide shed with standard 8' tall framed walls will easily accomodate a nice size garage door.
The picture below is from one of my customers who built my 12x16 barn shed and added a standard size garage door to it.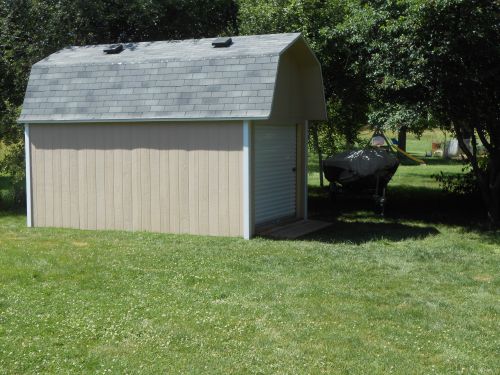 12x16 Barn Shed with Standard Garage Door
Any of my shed plans will work with standard roll up doors that are 6' in height.  If you are wanting to add a regular size garage door, then you would definitely have to increase the wall height to 8' as that is the only way to accomodate the 2x12 header needed for the wide door way span.

A lot of my shed plans show double wide shed doors.  If you want to switch to one that rolls up,  the same basic type of framing shown can be used. Modifications may have to be made for height and width increases, but this is very easy to do!

I am always amazed at how customers send me pictures of their sheds they build using my plans like this one in the picture to the left. 
This is a 12x16 saltbox where Jeff, one of my shed plan buyers, easily changed out the double wide shed doors for a nice roll up shed door.
Adding double and single shed doors.

---
---