Adding A Shed Loft

Here are some shed loft illustrations showing the framing for adding a shed loft to increase your storage space.
This shed loft is built in a small barn style shed. The support is built using 2x4's which extend between the wall studs just under the top plate of the side walls. 2x6's could be used instead giving more support. You can deck it with osb (cheaper) or plywood whichever is your preference. Also, this method for adding a shed loft to your barn is easier if you have already sheeted the roof trusses.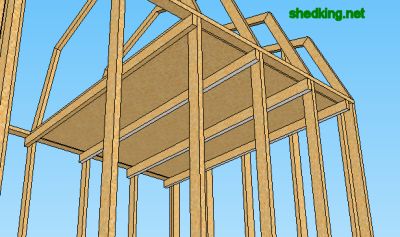 Placing the support boards above the top plate is more preferable I believe since this would give you more head room inside the barn, but trying to get those boards in there after the roof is sheeted is just about impossible. It is much easier to place them above the top plate before you sheet your roof.
Although this shed loft framing is shown inside of a gambrel style shed, this method of adding a shed loft could be done within the gable and saltbox style sheds also.