2'x8' Firewood Storage Shed Plans
Firewood Shed Plans
2'x8' Firewood Shed Plans
---
These firewood shed plans will help you build a 2' x 8' firewood storage shed and will require very little building skills.

It is constructed entirely of pressure treated lumber. You can however build it with whatever you choose.

You can certainly build it with regular dimensional pine and then treat it with wood preservative if you prefer.
More about these firewood shed plans:

2'x8' Firewood Shed Plans Page
You could just build the floor out of pressure treated lumber, and the rest of the structure from regular pine. I do however recommend also building the roof from either cedar lap siding or pressure treated 1 x 8's or similar dimension.

Here's a list of sections in the building guide and plans you will be receiving upon purchase for only $5.95:
Building guide and instructions.

Elevation Views.

Floor Layout.

Right and Left Wall Framing.

Back Wall Framing.

Roof Framing.

Roof Detail.

Materials Shopping List.
Each building phase has a separate page showing in detail all lumber dimensions, sizes, and cut lengths.

12 pages total comes in a .pdf format file downloadable immediately, securely and safely, through paypal for only $5.95. You also get full email support from me, John, the shedmaster at shedking.net.

Brand New Just added to the plans:

3d pdf located at the end of the plans that will allow you to zoom in, rotate, hide sections, and more! This feature will help you view in 3d detail all the framing of this firewood shed plan. If you aren't sure about a particular construction part in the building of this project this 3d pdf file will allow you to zoom right in on the structure as close as you want.

You will have to have the latest version of adobe pdf reader to view the 3d pdf file, but its free! You can download it here:

Latest version of adobe pdf reader(this link will open in a new window)
 
Firewood Shed Plans and Interactive 3d pdf Page
These Firewood Shed Plans are just $5.95 and you can purchase by using the 'Add to Cart' button below. 
Payment is processed by paypal and ejunkie and you do not need a paypal account to make the purchase.
If any problems are encountered before, during or after purchase is made please email me at shedking@gmail.com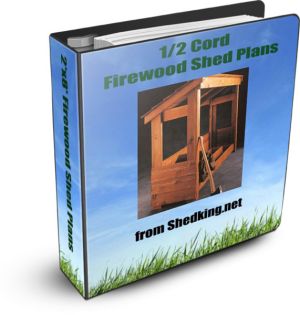 Detailed Firewood Shed Plans
---
Here's a few pictures comments from purchasers of these firewood shed plans:

Thanks John!

Actually, just had a cord delivered today and I was only about 30 logs short (I just stacked those next to the fireplace!) so it's bigger than you think. :)

I've been getting lots of compliments on the piece and am very happy with the way it has been keeping the wood dry while still allowing easy-access.

As for the plans, the hardest part for me was figuring out HOW to cut each board (I'm mathematically challenged) so that would be a helpful addition to the plans (e.g. 4 boards this size needed for this step. Cut two of them into THIS size pieces and two into ANOTHER size pieces). :)

Thanks again!

Matt

Here's a photo of Matt's firewood shed....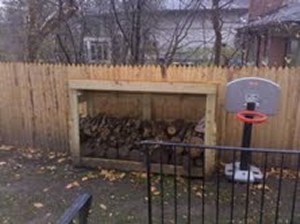 4'x8' Firewood Shed Plans
---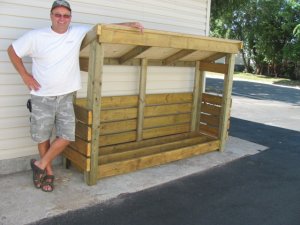 Martin's Firewood Shed
Martin from Canada had this to say about the plans: (That's Martin to the left!)

Got your plans the other day for this project. I used my old 2x6 deck boards for most of it. Sanded them down then restained them.

Also I used all screws, instead of nails. Could not get cedar planking for the roof where I live. I put 1/2 inch plywood on the roof and then maybe will shingle it or cedar shingles. As this is a gift for my sister and brother-in-law, I will leave that up to them!

Was fun to build and am presently looking at some of your sheds. I am not a great carpenter but I want to do more.

Thanks, and good job on the plans!

Martin from Canada
---
---
Aaron's firewood storage shed built using my plans: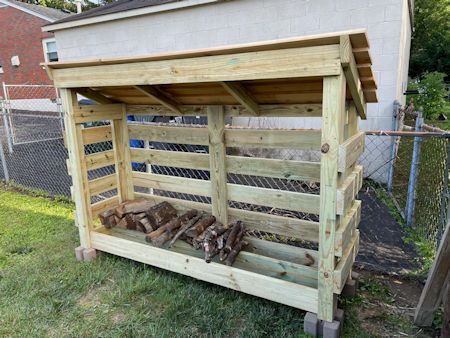 Aaron's 2'x8' Firewood Storage Picture
Easy to assemble firewood sheds from Amazon
I've picked out a few related products from Amazon that I thought you might be interested in if you don't want to use my firewood shed plans to build your own.

If you purchase using the links below, I will make a small commission!  This does not add to your cost to purchase though!