Diy Outdoor Garage shed ideas, designs, and plans
Here's a great garage shed idea - a neat workshop shed!
If you are looking to build a garage shed, this page is dedicated to garage shed ideas, plans, and designs to help inspire your own diy shed building projects.  All of the sheds shown below were built using my shed plans here at shedking.
 My favorite use of a shed with a garage door would be the workshop shed!   Except for taking up additional space above the door if you have the roll up type of door or a garage door that slides on tracks, you don't have to worry about doors swinging open and taking up extra space.

Here's a bunch of garage sheds built by my customers that you can build as well. 
What a neat gable roof shed with roll up shed door. Plans are down below.
Shane, the customer in the picture above did an outstanding job building his garage shed.  As you can see, he's pretty proud of his shed and he should be.  It looks outstanding.  It looks perfect for moving large objects in and out easily because of the wide roll up door he has installed.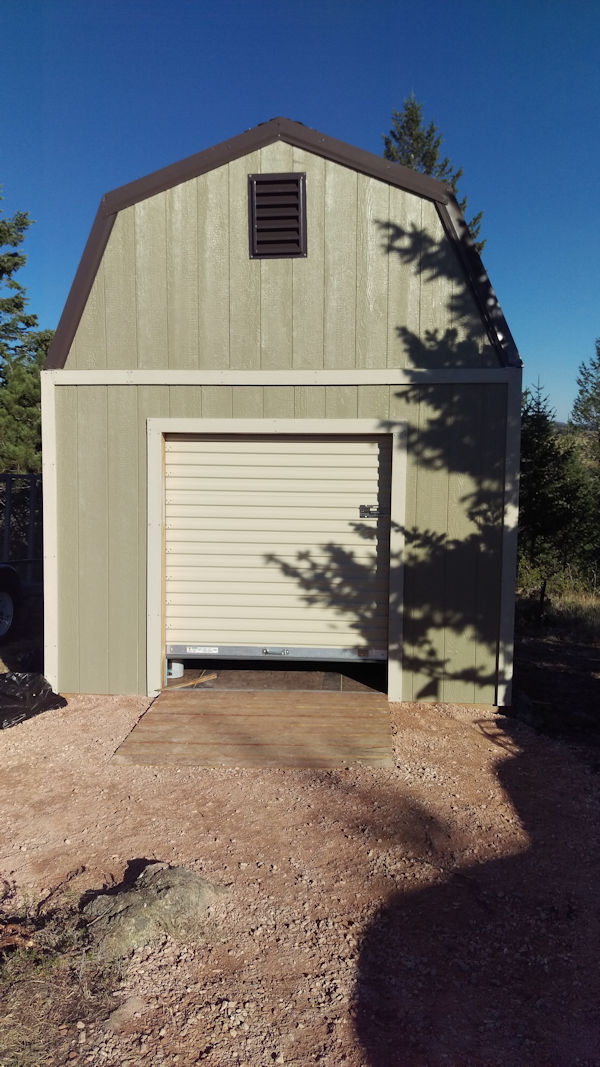 Nice big barn with a roll up shed door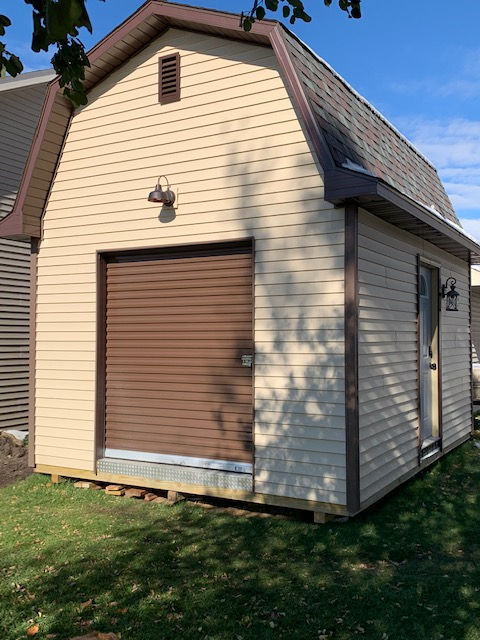 I fell all sheds with roll up or garage doors should have a side entry door too!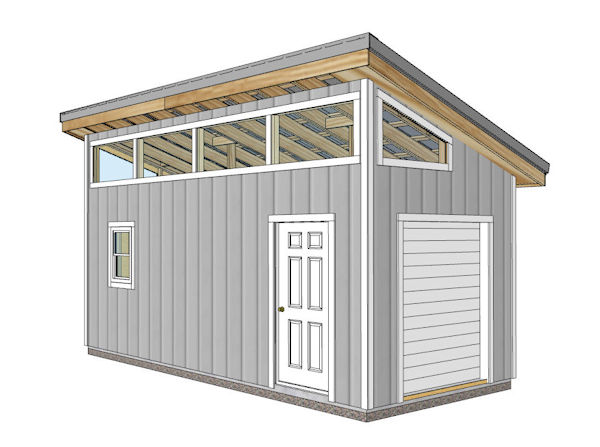 Contact me to get the plans for this great garage shed idea
The lean to shed above is a custom plan I did for a customer who requested exactly what you see in the picture.  I think having your garage door located on the short end of your shed will allow you to have more usable space on the inside of the shed.  If you are interested in getting the plans for this shed, please contact me.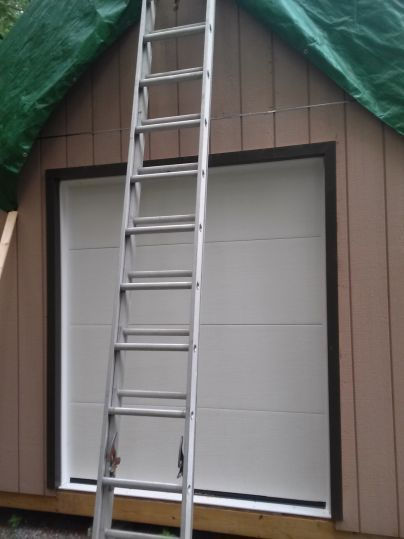 Roll up shed doors come in a variety of sizes
This customer's idea was to add a chicken coop to the side of his shed with a garage door!
What a nice job the customer did adding a chicken coop on the side of his 12x20 barn with a standard size garage door.  If you frame your shed with standard 92-5/8" wall studs, you will have room to put the appropriate size header above your garage door, and have room above for a roll up door to be rolled up!

Nice and simple garage shed! Plans are down below.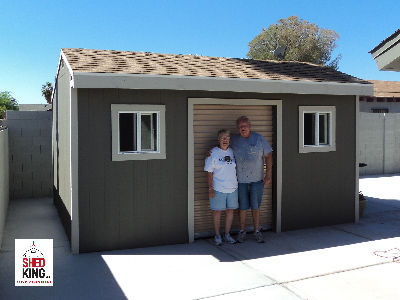 Here's another workshop shed built with a roll up shed door and lean to roof.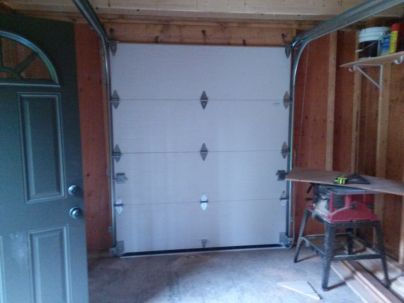 This is an actual garage door track inside of a shed!
Not mine, but I love this garage shed idea with workshop on the end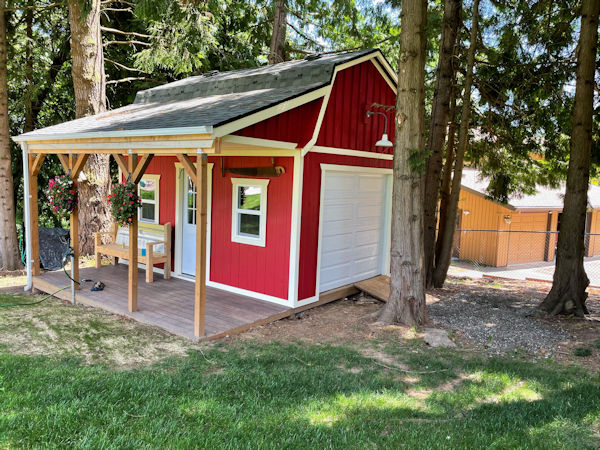 One of my favorites, but I would have cut that tree down! See the plans further on down the page below.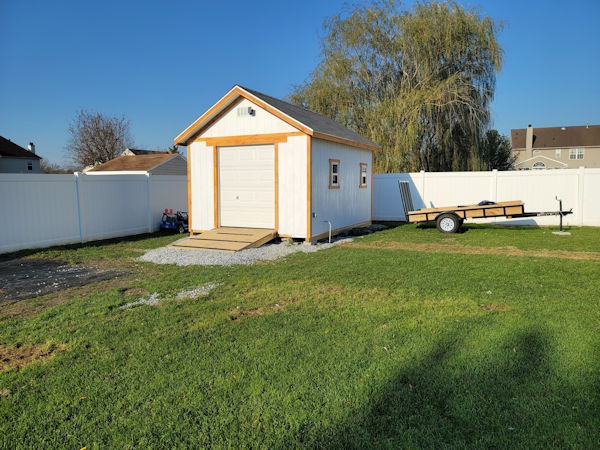 Simple gable style shed with roll up shed door. See the shed plans below.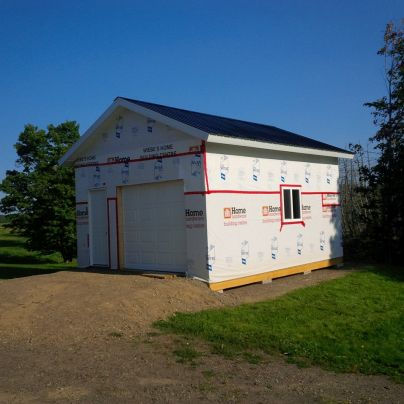 This one looks like an actual garage!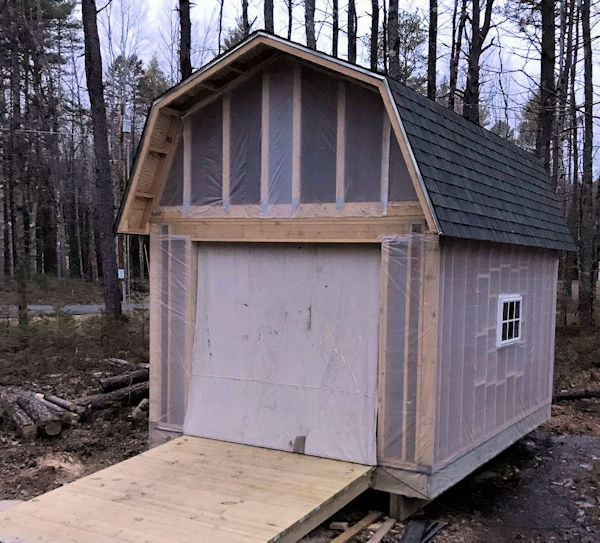 This garage shed has a big roll up door with a nice ramp leading to it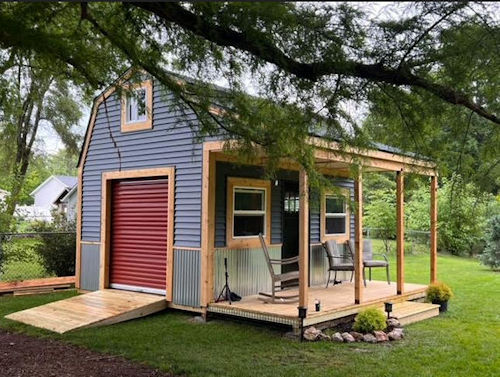 One of my all time favorite sheds with a roll up shed door.
What a great job this customer did building this shed.  It's got a 6' side porch, huge loft, nice wide ramp leading up to the garage door.  One thing to note, this shed has the roll up door on a non-load bearing wall.  You might have a tendency to not put a header in a non-load bearing wall but this would be a mistake if you plan on adding or putting in a roll up or garage door there.  You want this wall to be as sturdy as possible since the door takes up much of the wall space as you can see.  So always use appropriately sized header for the span across the opening.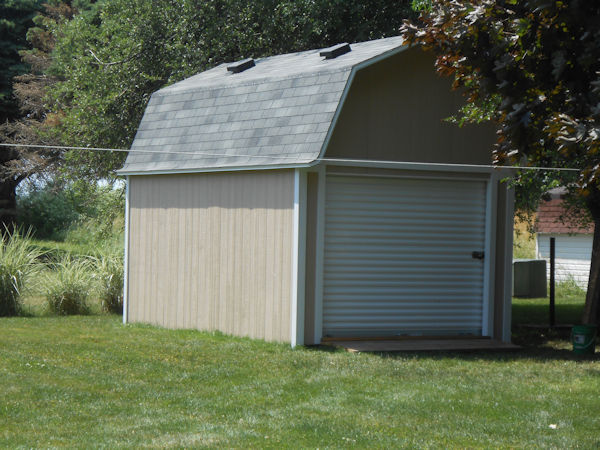 I think he actually parks his truck in this garage shed!
Garage shed plans for the Diy'r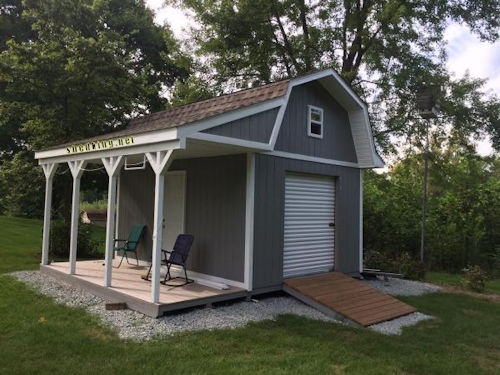 Need to convert one of my shed plans to have a garage door or roll up door?
After you find one of these ideas that you're falling in love with, if you need to convert the shed to one that has a roll up shed door, I have a ton of information on how to add a garage door or roll up shed door, and where you can buy them.  You can find that information here:

How to add a garage door or roll up shed door to your shed, and where to buy them.
Styles and types of garage sheds 
Garage shed plans come in different styles. From the conventional gable-style roof design to the more modern lean to designs like a contemporary design or tiny house sheds, there is a style of shed to meet your specific needs. Whether you are an avid gardener looking for a greenhouse shed or potting shed, or you're hoping to create a dedicated space to store golf carts and other large equipment, there's a garage shed plan for you at shedking.  If you need to incorporate a garage door into one of those  plans, learn how to do it here.  
Garage sheds are perfect for all sorts of storage
Shed organization always seems like a tiresome task, but with the right place for everything, it can actually turn out to be a great idea. A little investment in organizational tactics goes a long way in your shed, be it a workshop, craft studio,  or just a simple shed with a roll up shed door.

Adding a garage shed to your backyard is more than just creating a storage unit - it's about enhancing your outdoor space, creating a dedicated space for your interests and hobbies. With a little time, and the right plans ( see some great ones above), you can create an attractive and useful shed that is as beautiful as it is functional like the ones in the pictures I've included for you above.   Every shed plan I've got is customizable to your wants and needs.  If you need a modification done to any of my plans, please contact me.

From a dedicated workshop for your hobbies to an attractive storage unit for your garden tools or as a creative place like an art studio - building your garage shed is one of the best ways to utilize your outdoor space.
If you're ready to build a  shed with a garage door, my variety of detailed and comprehensive plans and designs will help you build the shed you need. So, why wait? Your perfect garage shed awaits.