12'x8' Saltbox Shed Plans
12x8 Saltbox Shed Plans
Chris's Awesome 12'x8' Saltbox Shed
Use these 12x8 saltbox shed plans to build a shed with the following features:

96 Sq. Ft. of storage space.
9' 1-1/2" tall from ground to roof peak.

Treated wood floor with 16" on center 2x6 floor joists.
Floor rests on 4 - 4"x4" treated skids which are solidly attached to 4 concrete footers (optional).
5' double door opening.
Plans for installing a 24" X 27" window.
Vented gable ends.

Materials list.

Roof trusses which you build with gusset plates.
This storage shed can be built with LP Smart Side pre-primed engineered siding (shown in plans) or use any siding of your choice.
Plans include blueprints for adding a ramp to your shed.
As you can see by the roof profile, a saltbox shed does not have a standard symetrical roof. The front side of the roof is shorter to the peak, while the back of the roof is longer from the peak back.
---
Pictures from Customers Who Purchased these 12x8 Saltbox Shed Plans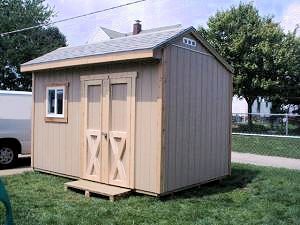 12'x8' Saltbox Shed Plans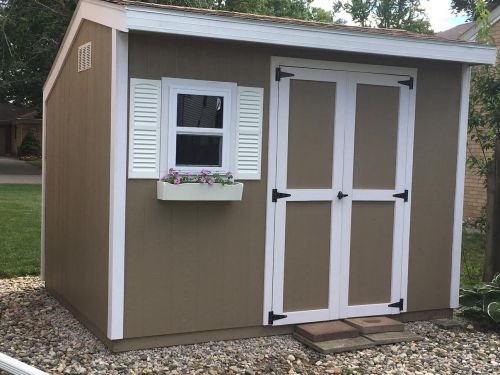 Mr. Pitsch's 12x8 Saltbox Shed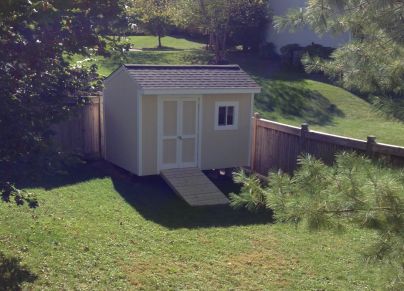 Kevins 12x8 Saltbox Shed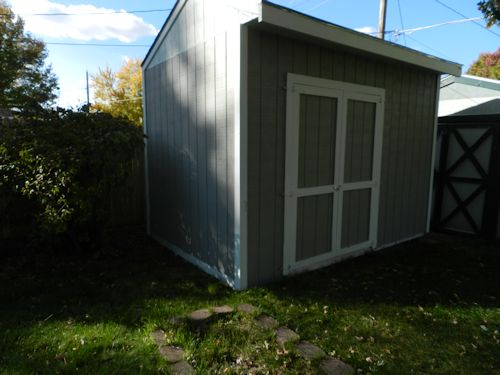 Steve's Saltbox Shed
---
Building this 12x8 Saltbox Shed step by step..

---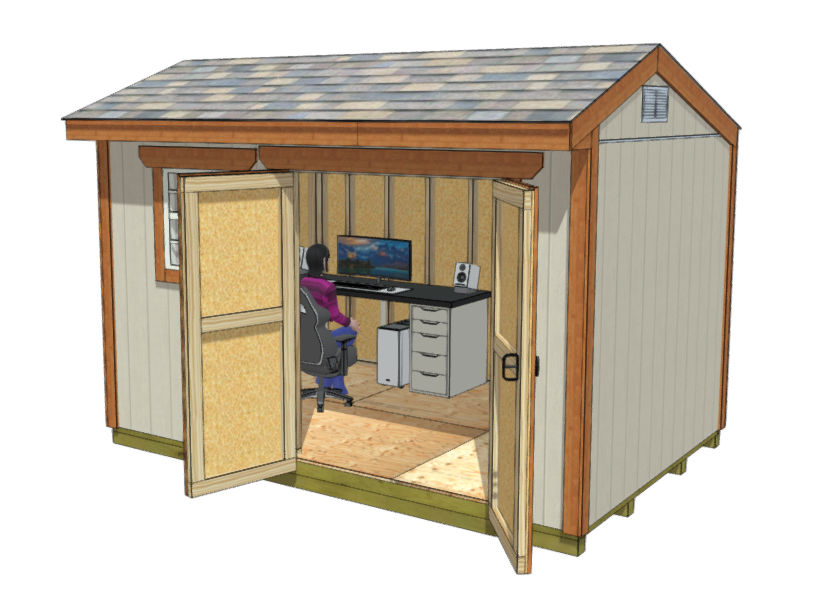 Use These Plans To Build a Home Office Shed!
With the onslaught of the covid-19 virus, many people are having to work from home.  If you are like the many who have had to do this and just don't have the extra space in your home to set up a home office, this may be your solution!
These 12x8 saltbox shed plans come with double shed doors.  This front wall can easily be framed for a single opening shed door that you can pre-build, or you can increase the wall height to just under 8' and install a pre-hung entry door.

---
How To Purchase These 12x8 Saltbox Shed Plans:

These shed plans are $10.95 and are instantly downloadable and available by clicking the 'Add to Cart' button below.

Please make sure any email from shedking.net or ejunkie.com does not go into your junk or spam email folder.

If for some reason you do not immediately receive the link to download the plans, please send me an email at shedking@gmail.com and I will attach the plans to a reply email for you.

---
If you would like to use the saltbox roof style for your home office shed but need a larger size, I also have a 12'x10' saltbox shed plan which you can find here:
Or an even larger 16'x12' Saltbox shed plan which you can find here: