12x12 Shed Plans

These 12x12 shed plans include 3d virtual reality views, building blueprints, construction guide, materials list, email support, and a fun time building your own very unique and awesome shed.

---
12x12 Shed Plans with Gambrel Roof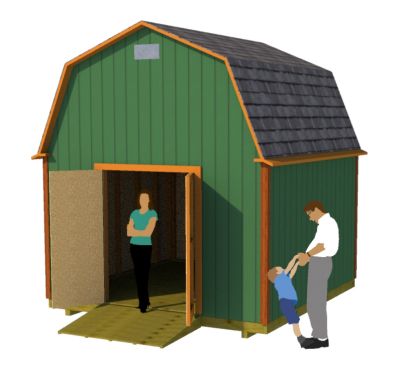 12x12 Barn Shed Plans
Here's a shed that you can build that offers a ton of storage space.  It has a gambrel style roof, huge loft, 5' wide double shed doors, all 2x4 construction, shed ramp, cedar trim, and nice large floor area for all your storage needs.

Learn more about this 12x12 shed plan.

Purchase information for these 12'x12' barn shed plans...

What happens as soon as you pay for the plans...

You should receive an email containing the download link for your plan purchase with in minutes of making the purchase.

If for some reason you don't receive the email containing the download link, please check your junk or spam email folders.  Occasionally your email provider will assume the email from ejunkie is spam or junk and place the email in there.  If this still isn't the case, please contact me and I will send you another link, or attach the 12x12 gambrel shed plans to that email for you.

This size shed is such a neat size in that it can be used to build a shed that can be utilized for not only storage, but all of the following:
Chicken coop
Dog Kennel
Playhouse
Music Studio
Makes a great Workshop or wood shop
Potting or garden shed
Cabin
Tiny House
Small Cottage
Some pictures from customers who used my 12x12 shed plans:

David's 12x12 Shed with Porch

David, shown in the picture to the right, actually purchased the 12x12 barn shed plans and my 12x16 barn with porch plans, did a few modifications to the plans, and built this neat shed you see to the right. 
---
Brian's 12x12 Shed With Loft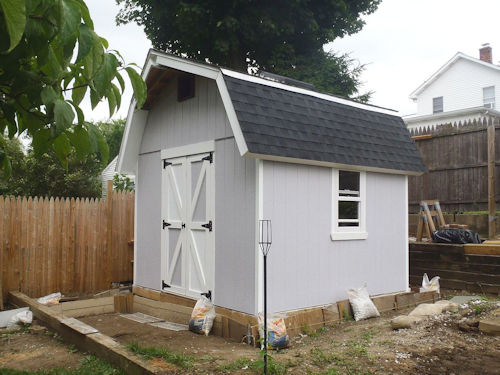 Brian's 12x12 Barn Shed with Loft

Brian built this 12x12 barn style shed with loft  for a client, someone he's worked for a lot.
It's a garden, storage, workshop.
He added windows, insulated the floor framing, and also did a 'french drain' around the perimeter of the shed.   You can see more of Brian's shed pictures here.

---
I have more barn style shed plans here.

If you are interested in seeing all the shed plans I have, please click here.