Shed Foundation Skid

What is a shed foundation skid and how it is used in building a shed foundation?
A shed foundation skid is used for building your shed if you are going to be building a wooden shed floor.

A skid for the most part will be a treated 4"x4" piece of lumber that will run perpendicular to your floor joists. Typically if your shed is 'x' foot long and 'y' foot wide, the skid will be equal to the longest measurement.

For example, on a small barn that is 10' wide and 12' long, your skid will be exactly 12' long.

The following picture illustrates the framing for a 10x12 shed floor with 12' long skids.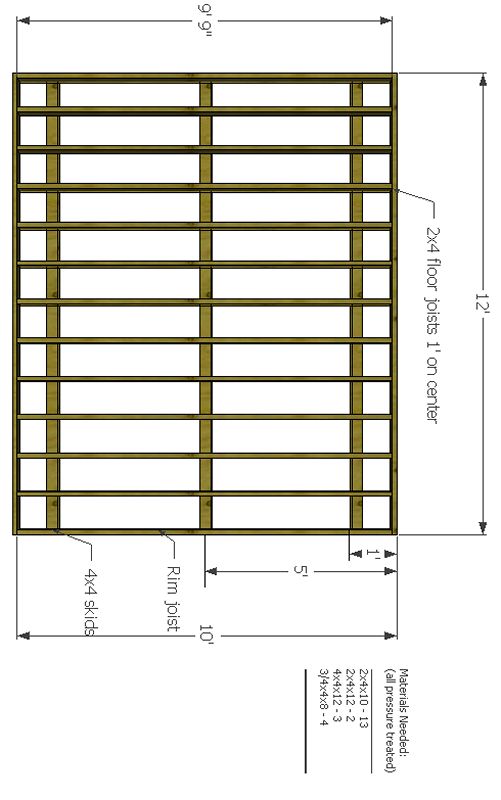 Most of my shed plans specify a specific dimension, and a 10x12 shed for example will have a floor that is exactly 10' wide by 12' long. This makes framing easy, and joists are easily spaced along 12" or 16" increments. These floor joists are in turn nailed to the 4x4 skids running underneath them and they are supported by concrete anchors, and blocking to insure that your shed floor is not only anchored properly, but also supported properly to accept the weight loads that you intend to store in your shed.
A shed floor that has floor joists that are spaced 16" on center will be quite sturdy, but a shed floor that has floor joists spaced 12" on center will be even sturdier. And, the cost for the additional joists is minimal for the benefit gained for the extra support obtained.

Care should be taken when nailing your floor joists to the skids. Make sure that you are lined up at the 4' increments perfectly so that when you lay your floor sheeting down, the sheeting edges fall exactly in the middle of the floor joists that are at those intervals.
This will make the task of building your wooden shed floor that much easier.
Here's more information on how to build a wooden shed floor.