Gambrel Shed Plans

10'wide x 12' long x 11' 9" high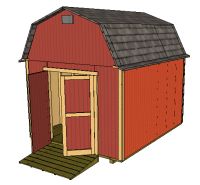 Fun and Easy Gambrel Shed Plans
These gambrel shed plans will help you easily build a sturdy, nice looking shed that you can use for just about any purpose you want. I say sturdy because these small barn plans will show you how to build a sturdy foundation for holding up this almost 12' high shed that has an all treated shed floor with floor joists spaced 12" on center.
You'll save money building the shed walls and shed roof on this storage shed because all studs are spaced 2' on center and same with the roof trusses. You have the option of adding more studs or roof trusses. Something you may deem desirable if you live in areas with heavy snow loads.
You can download these Gambrel shed plans immediately for only $6.95, and they come with a 38 page how to build a barn guide and detailed barn building plans just chock full of pictures and illustrations.

With your instant download here's everything you will get with these small barn plans:

Illustrated and detailed building guide.

Elevation views.
Building Section
Floor Plan
Floor Layout
Front Wall Framing
Right and Left Wall Framing
Back Wall Framing
Truss Construction
Roof Framing
Fly Rafters and Side Overhang Construction
Shed Door Construction and Cuts
Loft Framing
Simple Shelving Construction
Framing for Adding Windows
Shed Ramp Building Details
Materials List
Email Support from me, John, the Shedmaster at shedking.net
Watch my youtube video of this 10x12 gambrel shed.
Every framing view you see listed above shows in full page color with details for building and constructing every phase of your gambrel shed construction. And, all framing sheets show cutting dimensions for all lumber, and each page also lists materials needed for that particular building phase.
These plans were designed and written by me, a professional shed builder. These aren't somebody elses plans, they're mine. I can answer any questions you might have about the building process, and I'll do my best to answer your questions swiftly for you.

If you are ready to build a nice small barn with lots of storage space that's easy and fun to build, especially if you get your family involved, click on the buy now button below for secure purchase at paypal.com.

How to Download These Plans:

These plans are just $6.95, come in pdf format, and are an instant download immediately after you pay using the Buy Now button below. 
Purchase is made through paypal and ejunkie.com.  You do not need a paypal account.
If for some reason you don't immediately get the link to download the plans please send an email to shedking@gmail.com.
Sometimes email providers will block the download link because they think it may be spam or junk email so please make sure you can receive email from shedking.net and ejunkie.com

Emailed Plans in .pdf format for $6.95:


Leave gambrel shed plans for more barn shed plans. 

---
---