12x16 Barn Shed
Built by Randy

Randy submitted these photos of the 12x16 barn shed he built using plans he purchased from shedking.

| | |
| --- | --- |
| Ah, consstruction can begin now that all materials are being delivered. | Setting the floor 4x4 treated skids on concrete supports. |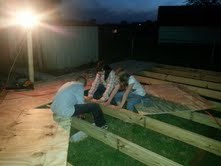 Getting your family involved in the shed building process is a whole lot of fun for everybody!

Randy building one of the walls.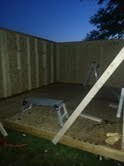 Using temporary bracing while all walls are built and stood up is a great idea.  Good job Randy!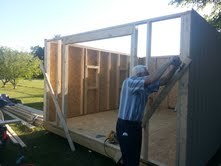 Here's Randy again pretending to be doing all the work himself!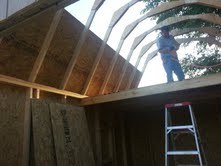 Finally another helper getting in on the fun!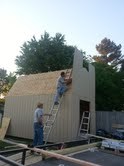 No time for goofing off now, they are almost done!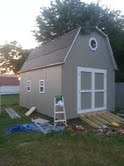 Nice job Randy!  This will be a nice shed for storing just about anything you've got!

I want to thank Randy for submitting pictures of his barn shed.  A job done very well from what I can see.  If you are interested in building a barn shed like this one, you can find the plans here.

---
---