Making Shed Trusses

And why they may not always fit!

Gable Truss Diagram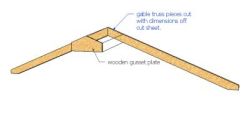 Simple Gable Truss
Occassionally buyers of my shed plans complain that when they are making shed trusses and they don't fit the way they should, they complain that the angles and cut lengths shown on their plans are wrong.
Here's just a recent complaint I received not to long ago for the truss construction contained in my 12x16 Gale shed plans:

An Issue A Customer had with making shed trusses

John,
The 12x16 gable shed is coming along nicely. 4 walls, siding and a door. I'm building trusses right now. Your plans call for 22.5 degree cuts with 6ft 6in length on the apex. 

These dimensions leave the truss 3-4 inches short of covering the 12ft wide building (and 6inches short of the 10+ft height). 

Do you have updated or accurate cuts/angles for the trusses? 

Thanks for your help, TJ

Well, I went into my shop and built one of these trusses that TJ, in the complaint above, said was way off, in an attempt to clarify some confusion. Hopefully this page will do that.
Using a Speed Square For Truss Angle Cuts
Measuring the truss angles with a speed square

First, as shown in the pic above, I got out two 8' 2x4's. I proceeded to cut a 22.5 degree angle for the top of the trusses on each 2x4.
Then, I measured down 6'6" (78") down from the top of this cut (called for in the truss construction of this shed).

At this mark, I then made another 22.5 degree angle cut, parallel to the top cut, on each of the 2x4's. Now, on this cut, I measured down 2" and made another mark. See the pic below.....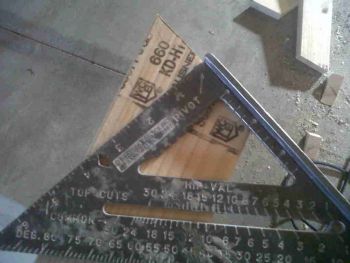 Cut For the Top Plate Angle
Cutting along this line will give the truss it's place that will sit on the shed walls top plate.
Now duplicating all this for the other 2x4 will give me identical truss halves.

The next step is to put the top of these truss halves together, then double check the bottom measurement from outside truss edge to outside truss edge. Once you have verified that they do indeed measure 12', or whatever the width of your shed is, you can join the top truss members with a plywood gusset (see top picture above).

The truss I constructed is shown below with the end of the tape at about 12' which is about where the truss width ended up being:

Make one truss only and check before making all the rest of your trusses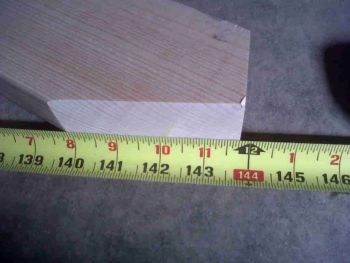 Measuring To Ensure The Angle Cuts Are Working Out
Now, you can see that I am not quite at 12'. I double checked everything on both truss halves, and come to find out that my top length on the one half was off by 3/16". Also, my 2 inch cut on the other end was only about 1-3/4".
And, the top cuts were probably off by a degree, because even though my line was drawn properly at 22.5 degrees, I cut it at 23 degrees.

Another factor that could throw things off somewhat is that the 2x4's I picked out were probably slightly twisted and not 100 percent straight. This is very common, and because of this,

"Making shed trusses will not always turn out to be perfect!!!" It's very easy to build one that will be way off if your angle cuts are off by even as much as 2 or 3 degrees. You just need to correct any errors before going on to the next truss.

So what do you do? As you make each truss, verify all your measurements are correct, and make only one at a time to make sure it is correct and will fit the width it is supposed to fit.

Your angle measurement cuts will be off and not perfect, same for your length cuts. You are not a machine doing perfection here. You are only human and make human errors.

As you fit each truss to the shed, you may have to bend, or pull sometimes to make them fit perfectly. That's the nature of working with wood and accepting the fact that they are not going to be perfect.

Also, make sure you follow the directions for cutting each and every angle the way it is supposed to be cut. If you follow the above advice you will have some pretty darn good shed trusses that will be pretty darn close to fitting that neat shed you are building.

Here's a simple diagram showing the cut method of a simple gable truss member.

Shed trusses will not be perfect!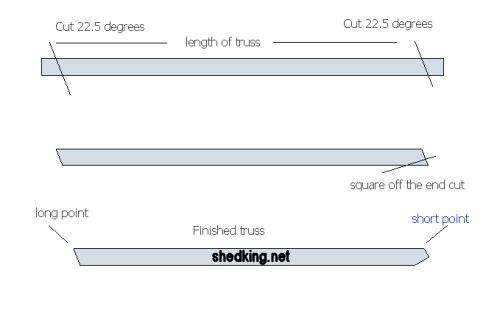 I hope this helps you out in your quest in making shed trusses.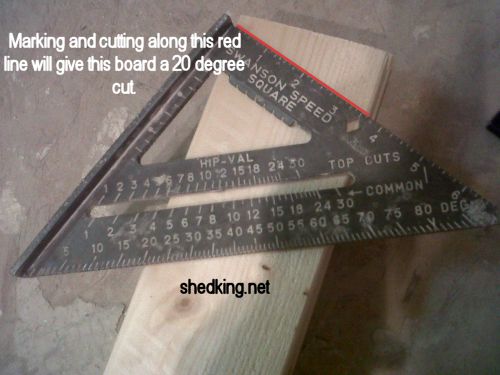 A Swanson Speed Square Is Great Truss Angles
You may also want to read about how to use a speed square when measuring angles for trusses.