Ridge Beam ....
How To Build a Shed Roof With One.

Framing in a ridge beam in shed roof construction is not hard. Here's a picture of a gable style shed using a ridge beam.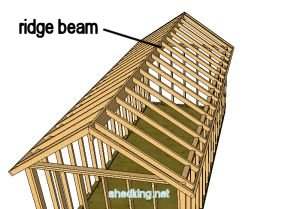 Now if you have done any looking around this site, you'll quickly see that I am not a fan of using a ridge beam in shed construction. I always, always build trusses. Its the way I was trained to build sheds.
I am not saying it's the best way, I just know how to build sheds better by using trusses for my shed roof construction.

By the way, if you would like to see how I build shed roofs with trusses, check out the following link: How to Build a shed roof.

I can't ever recall seeing a saltbox shed built with a ridge beam, or even a gambrel roof shed for that matter. Come to think of it, the only style shed I can see that would be easy to use a ridge beam is the gable style shed.