Do I need a permit to build my shed?
How big of a shed can I build without a permit?
Building a new shed can be an exciting home improvement project, giving you extra storage space or even transforming it into a tiny home, a home office, or yoga studio, or. However, before embarking on this project, one of the critical considerations is whether you need a shed permit. The permitting process can seem daunting.
Still, understanding the local building codes and obtaining the appropriate permits is essential to avoid any legal hassles or potential removal of your shed.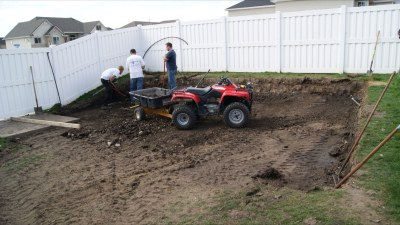 Getting Site Prepped For First Inspection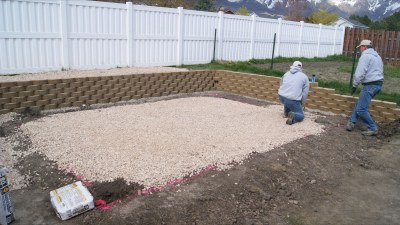 Gravel Base Under the Slab
Check your local jurisdiction before you build
In general, whether a permit is required to build a shed is largely dependent on your local jurisdiction. Regulations vary widely between state, county, and city governments, and even homeowners associations (HOAs). There might be specific requirements about the shed size, floor area, location from property lines (known as setback requirements), and the shed's intended use that come into play.

Under the International Building Code, most accessory structures, including storage sheds, that are under 200 square feet do not require a permit. However, you may find that your local building codes may have more strict regulations. For example, the Florida Building Code requires that any new shed or accessory building, regardless of its size, undergo zoning review and have a construction permit. It's always best to consult your local zoning department or permit office to confirm your area's rules and regulations.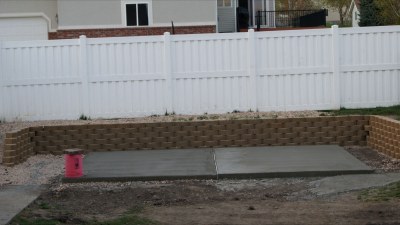 Slab Is Poured and Ready For Wall Framing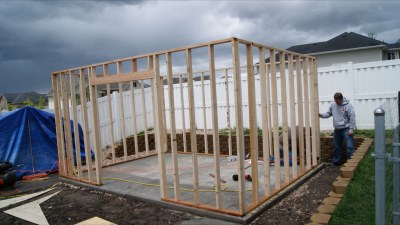 Wall Framing Up!
What happens if a permit is required to build your shed?
If a permit is required, the steps involved in the application process typically involve submitting a building permit application to your local building department. Often the application process involves providing detailed shed plans, a site plan showing the proposed location of the shed on your property and it's location to property lines and your house, and other relevant details about the construction process.   

In some cases, a separate permit might be needed for different phases of the work. For instance, structural changes may require one permit, while electrical work would require another. If a septic system is involved and your shed is positively too close, it could affect your permit application.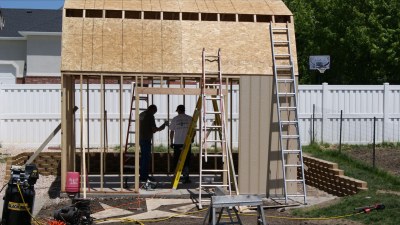 Working On Getting The Roof Framed In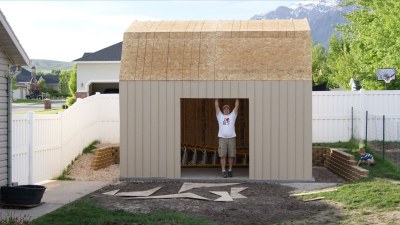 Almost Ready For Final Inspection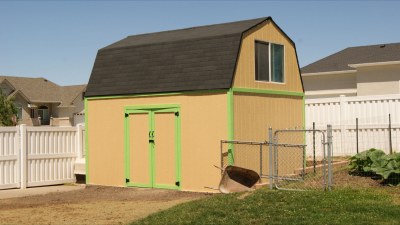 Finished And Ready For Final Permit Inspection!
What happens with the first permit inspection?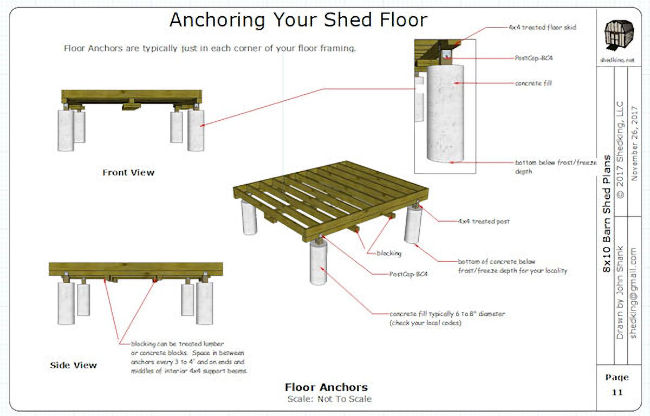 Holes For Anchors Were Checked On The First Inspection!
In my neck of the woods, which is Greene County Ohio, the initial inspection always involved the inspector checking the method I was using to anchor the shed with.  For example if the shed anchors were concrete with posts or piers burried in the concrete or sitting on the concrete, the depth of the holes had to be inspected first to make sure the bottom was below the frost line.
So the very first thing I always have to do when building a shed with wooden floor, is to build the floor first thing.  This was before the first inspection.  This allowed me to mark off the exact locations for the concrete anchors, slide the floor over out of the way, then dig my holes.   
Once the holes were approved, I could place my treated posts in the holes. plumb them up, and then pour my concrete.  As a shed builder, this puts you behind because now you can't continue building because you're waiting for the concrete to set up.  So you are a day behind!  
So generally speaking the initial inspection could be just for checking anchoring, or location and placement of the shed, or making sure the proper excavation is being done if a slab is being poured.
The next inspection was usually the final inspection, from a building inspector.   I typically found that most of the building departments in my area just required the initial first inspection, and a final.
Required inspections ensure that the shed has been built safely and in compliance with all local codes. A successful final inspection is critical. If your shed isn't up to local codes, you could face a code violation, which may lead to fines and the potential removal of your shed. It's always better to go through the proper permitting process from the start than having to cope with these problems later.

So you live in an HOA!  Even more restrictions on you!
Before embarking on your shed building journey, you should also consider aspects such as local zoning restrictions and HOA rules. HOAs often have rules about adding structures to your property. These regulations can dictate the maximum size of your shed, locations where it can be placed, and even color or material choices.  
I can't tell you how many times I get emails from customers saying they can't use my shed plans they bought because their homeowner's association  says the maximum height can only be so much and the plans they purchased from me are not going to work for them!
So for your own peace of mind it's a good idea and in your best interest to get with your HOA on any restrictions they have. 

Placement and location of your shed matters!
You should also consider how close to the property lines you can place your shed. Usually, this is defined by setback requirements, which can also affect the size shed you can build. Some cities also have specific regulations about adding new structures to properties with other specific features, like a swimming pool.

And finally, keep in mind that converting a shed into a living space like a guest house  or using it for business purposes often involves an entirely different set of regulations. For example, if you plan on adding room additions or converting it into a tiny home, you will most likely face additional regulations, and going through a different approval and inspection process.

I used to hate the permit process!
I can remember when I first started building sheds.  It was always up to the homeowner to get the building permit.  My only thoughts were " What a complete waste of my time and an unnecessary expense for the homeowner!"  During the spring, tons of permits are applied for and you know what that means?  They are so darn busy at the building department that it might be weeks before you get a permit!  It was a necessary evil that just had to take place and boy did it rub me the wrong way!
I couldn't have been more wrong!  Adhering to local government's building permit questions and undergoing the permit applications process assures that a new shed is legal, safe, and a valuable addition to your property.  If you've got a builder that's going to build your shed, make sure they get a permit.  
Building a shed may seem like a small undertaking, but it is a structural change that can impact your home value and neighborhood. Adhering to your local government's building permit questions and undergoing the permit applications process assures that your new shed is legal, safe, and a valuable addition to your property.
Permits will hopefully ensure the safety of your new shed!
The need for a shed permit is determined by multiple factors – from the size of your shed to your local codes and regulations. It's critical to understand your specific requirements and to maintain open communication with your local building department to ensure a smooth, lawful construction process. This due diligence might seem laborious, but it helps to remember that these codes and restrictions are in place for safety reasons.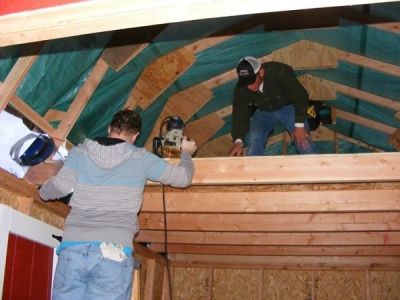 The Shed Structure Being Safe Should Be Your Main Concern
General requirements after you determine you need a permit:
Here's a list you can follow for the general requirements of what to do once you determine that you do need a permit to build your shed:

 1. Building Permit Application: Submit a completed application to local building department. 
2. Site Plan: Provide a site plan showing where the proposed shed will be built in relation to property lines, or other structures. 

3. Shed Plans: Provide detailed blueprints of the shed including dimensions, construction materials, and design features.

4. Construction Permit: Obtain a construction permit before any construction work starts. Some areas require separate permits for different phases such as foundation, electrical, or plumbing work.

5. Inspection: Most local codes require an inspection after the work is completed to certify it complies with local building codes. 

6. Property Line Setbacks: Often, sheds must be built a specific distance away from property lines; check local zoning laws.

7. Zoning Permit: Some areas require zoning permits specifying the purpose of the shed.

8. HOA Rules: Check with your Homeowners Association to understand their rules and possible restrictions.

9. Size Limitations: Many areas have a maximum size limit for sheds or require permits for sheds above a certain size. 

10. Utility Clearance: You may need to prove that the shed's location doesn't interfere with utility lines.

Pease note, these requirements can vary significantly by city, county, or state. Always check with the local building department to get the most accurate information.