Framing A Shed

Some important guidelines to follow for framing your shed

Framing a shed is relatively easy, but if some basic simple steps aren't done, some or all of the following could happen:
Impossible to pass building code inspection.
Make the initial building process difficult or impossible.
Unsafe structure to use.
Doors become jammed or impossible to open.
Roofs deteriorate faster and leak.
Take away from your property value.
 A waste of your hard earned money because your shed wasn't built correctly. 

---
Framing wooden shed floors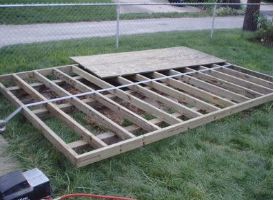 Shed Floor Framing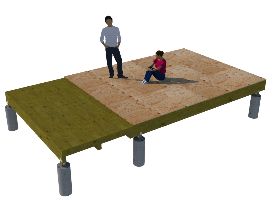 Framing and Sheeting a Shed Floor
Shed floors can be framed in a number of different ways.  Here are some key factors that you need to consider.
Your shed floor needs to be framed out of the right size lumber.
Your shed floor needs to be square.
Your shed floor needs to be Level.
Your shed floor needs to be supported, and should be anchored.
Online guide to building shed floors
How to anchor a wooden shed floor
---
How to frame shed walls

Before building your shed walls, one factor to consider first is the type of siding you want to use.  If you are going to use siding panels like T1-11, LP smartside siding panels, or vertical board and batten types of siding, your walls should be framed so that they allow for your siding to extend down below the floor sheeting for weather protection.  Usually a 1" extension is sufficient. 

Typically shed walls are framed with 2x4's and can be normally spaced using 16" on center or 24" on center.

---
How to frame a shed roof

There are 4 basic styles of shed roofs.
Gambrel or barn style
Gable
Saltbox
Lean to with single slope shed roof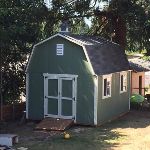 Barn Style Roof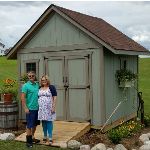 Gable Style Roof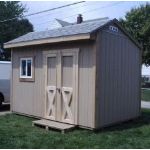 Saltbox Style Roof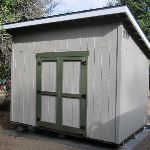 Lean To Style Roof
Shed roof framing can be accomplished by using pre-built trusses or by building with a ridge board and rafters. 
Shed roofs that can be built with trusses are the following:
Gambrel or barn

Gable
Saltbox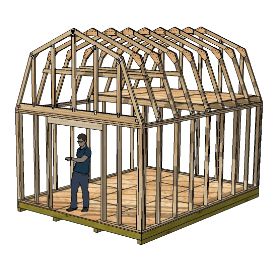 Barn or Gambrel Trusses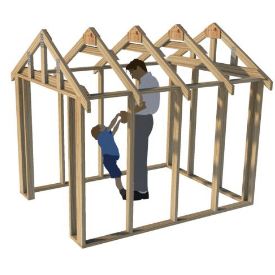 Gable Style Trusses
Shed roofs that can be built using a ridge board and rafters: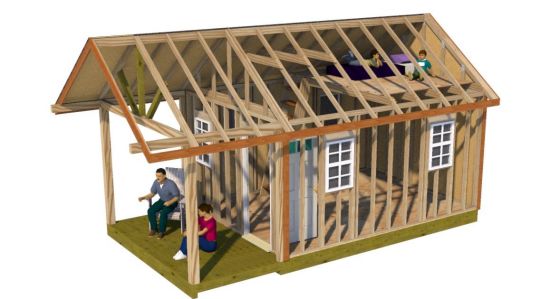 Gable Style Roof With Ridge Board
The lean to shed uses roof rafters that run from the front (or back) wall to the back (or front) wall.
Shed roofs that have ridge boards are framed typically with rafters.  Shed roofs that do not have a ridge board usually are framed up with pre-built trusses.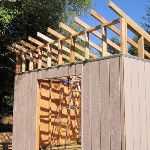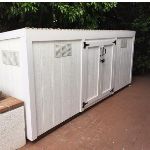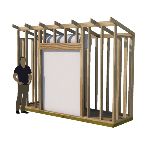 Free shed building guides
Plans for building shed trusses