The Best Firewood to Burn
Which types of wood make the best firewood to burn?

Seasoned hardwood is the short answer. The best answer is somewhat more complex. Different parts of the country have different types of trees, so you are limited by where you live.

The fact of the matter is this. The colder the climate, the less heat value in available wood there is. Hickory has nearly twice the heat value as say spruce, fir, pine, and the like, which are plentiful in Alaska. The heat value per cord of spruce, fir, pine, is equivalent to 115-140 gallons of fuel oil.

Hickory believe it or not is available in the southern climates.!

Ideally, you should have a variety of hardwoods to burn, depending on your heating needs.

The best firewood to burn include hickory, apple, white oak, beech, and hornbeam, which will all give you steady fires of long duration and create deep beds of coals.

Softwoods like poplars, basswood, and butternut, burn fast and make very few coals. These woods are less than 140 gallons of oil per cord. If you can, avoid burning these softwoods as they could damage your stove or start a chimney fire unless you drastically reduce the air supply to the fire.

If you don't know that much about your firewoods in your area, talk to an experienced woodburner and/or state foresters to get an overview.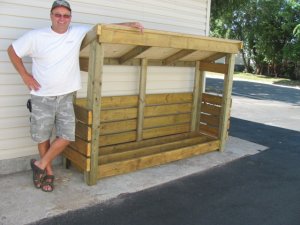 Firewood Shed Plans for Just $5.95
Stacking Firewood - The Best Way.