Here's How to Install
Shed Roof Flys and Side Overhangs

The flys are exactly as shown in the plans. After you have your roof sheeting on, measure down from the peak to the middle roof angle. this measurement is the length of your top fly. You will want to cut both ends at 22.5°. Using a helper, hold this fly in place, and either toe nail it to your shed or screw it. It doesn't matter as either is acceptable. You would be toe nailing from the top edge at an angle down into the siding and penetrating the roof truss. Nail about every 8" with 16d nails or 3" screws.
Next, measure down from the top edge of your just installed top fly down to the bottom of the roof sheeting or the top edge of your siding, it doesn't matter as both would be the same.
This measurement will be the length of your lower fly and gets nailed or screwed the same way.

Now, its time to install the 2x block just underneath the bottom fly. measure and cut to fit. This gets attached by nailing it up into the bottom of the lower fly, and you can also toe nail it from the bottom into the siding through the top plate.

Do the opposite side in this same manner so when you have completed this, the front will be totally done.

Do the rear of the shed next using the same steps.

The side overhangs will probably have to be made by cutting a 2 - 2x6's joined together and equaling a total length that equals from the front edge of the front fly to the back edge of the back fly.

The side overhang has one beveled edge on it that should be cut using a table saw with the blade set to 22.5°. This overhang gets toe nailed into the side of the shed so that the top edge is flush with the bottom edges of the flys. Nail into adjacent roof truss locations with 16d nails.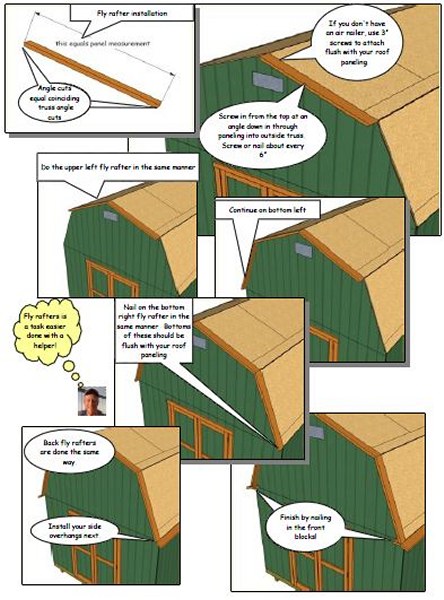 Larger image of the above here in pdf format.
Leave shed roof flys and overhangs for how to build a shed roof