Shed Floor Skids

Shed floor skids will help support your floor, and depending on the size of your shed floor, you may want to use as many skids as necessary. The following picture shows a 8' wide x 12' long shed with 2 skids a top concrete footers.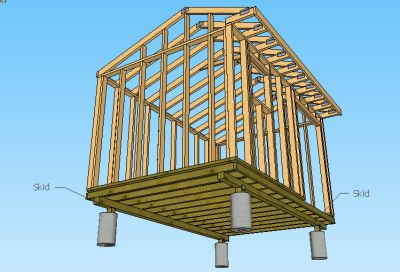 I normally will place one skid each about 12 to 16 inches from each side, and just use 2 for 6 to 8 foot wide shed, and anything wider than that I will place an extr 1 or 2 skids in the middle, spaced evenly.
Usually, a skid will be treated lumber, and probably always a 4x4 x whatever length your shed floor is. As you can see by the picture above, the floor joists are placed perpendicular to the skids. I like to space my floor joists at 12" o.c. and nail at every location where they touch the skids.

I have found that most county codes call for at least 2 concrete footers under the support skids, and the other locations that need support I will usually just support with blocks or treated lumber.If you don't plan on using supports under the skids, it's at least a good idea to use cable tie downs to keep your shed from moving during heavy of severe winds.

Another tip about shed floor skids is that they are typically the length of the longest measurement of your shed floor. For example, if you are building a 12x16 shed, the skids will be the 16' length, and your floor joists will be the 12' length, less the width of your band boards.

Here's my online guide on How To Build a Shed Floor.
---
---