Shed Door Sizes?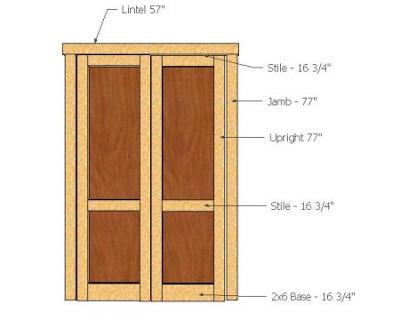 4' Shed Doors
I built a lean to on my home and I cant figure out how to go about putting a door or doors on it.

The opening is 4 feet and framed out of 2X4s. How should I proceed?

With a single door or double doors? I like the most having a single door but can I make it strong enough at the hinges. I guess this is the question, what type of hinge?

Anyway your help would be great. Oh I am trying to keep this cheap because I went way over my budget with extras.

***********************************
John's Answer

Hello Jeff,

I would definitely build double doors for this 4' opening. Please feel free to follow the instructions I have for building shed doors located at:

https://www.shedking.net/How_to_build_shed_doors.html

Its always easier if you start your siding right in the middle of the shed door opening and work your way over to each side.

Once the front of your lean to shed is sided, you can then cut out the siding away from just the door opening, being careful not to mess the siding up. Then use these two pieces to make your shed doors with.

Hope this helps you out,
John


Join in and write your own page! It's easy to do. How? Simply click here to return to Shed Door Questions.