How To Build a Shed Ramp, add Shelves, and More!

Storage Shed Ramps

Knowing how to build a shed ramp for your storage shed is essential if you plan on moving riding mowers and other heavy equipment in and out of your shed.
The following illustration on building a shed ramp is one if the best and easiest ways to build a good, sturdy entry ramp into your shed.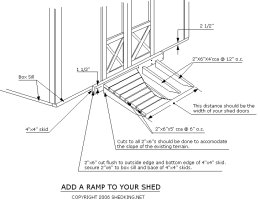 A Shed Ramp Built With Treated Lumber
Shed Ramp Framing Example
Some Shed Ramp Examples
Concrete Base For Ends of Ramp Supports
Another Shed Ramp Example
Plans for how to build a shed ramp 
When you build your shed ramp, the length and height of your ramp will depend on how high your shed is off the ground. 

Another factor is how the ground underneath your shed is sloped. 

Storage Shed Shelves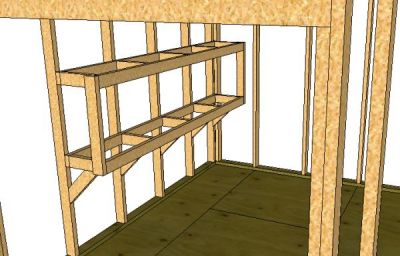 Here is the easiest way I know to add storage shed shelves to most wooden storage sheds.
DISCLAIMER
Do not purchase materials or attempt to build this shed project unless you have studied the information provided thoroughly, and have verified all dimensions and material requirements for yourself. Also verify that the plans conform to local building codes and practices. Although every effort has been made to ensure the accuracy of the information and design, the user is ultimately responsible for the use of this information. All information provided is copyrighted and cannot be duplicated without the permission of Shedking.