12x22 Gable w/Front Porch
12x22 Gable w/Front Porch in 3d
Place, See, and Walkthru This Shed In Your Backyard!

After clicking on the model above, one of the neat features is you can actually click on the [AR] button under the model, using your phone, and look at it, walkthru it and all around it.  This way you can see what it will look like in your backyard, or where ever you want to build it, before you purchase the shed plans.
Modify This Shed with Sketchup
If you are handy and have some experience using sketchup, which is the program I use to develop my sheds with, you can even make modifications to the shed.  I sell the sketchup model to this shed which you can purchase here for $19.95 using the buy button below.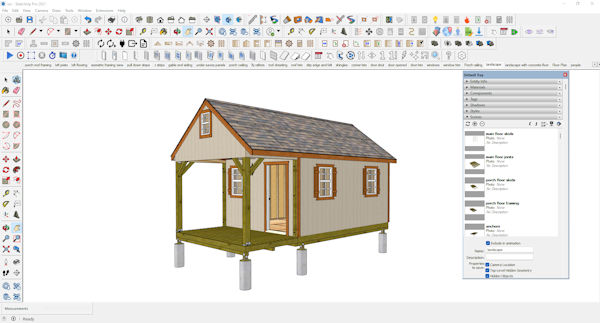 Get Sketchup Model For This Shed
| | |
| --- | --- |
| Purchase the 12x22 gable with front porch sketchup model which contains 45 scenes with individual layers. | |
Download This Shed Model and View All Scenes and Layers with Sketchup Viewer

That's right.  With sketchup viewer you can view every scene from support skids to roof framing in 3d to get a clearer picture of exactly how everything is put together to build this shed.
Here's a neat video from Matt Donley on exactly how sketchup viewer works.

How To Purchase The Building Plans:

Here's the link for the shed plans to build this 12x22 Gable with porch.