How to Build a Shed and Have Fun with Free Building Guides, Plans, Design Software, and Tips all From a Shed Building Pro

Plan, Design, and Build Your Own Shed
Is learning how to build a shed easy?
You bet it is, and I'm going to show you how!
If building a shed seems like a daunting task for you, don't worry! Its actually quite simple and easier than you might imagine.
I am a professional builder here and I am going to show you step by step how truly fun and easy it will be building your own backyard storage building. Whether you need a shed or small barn for storage or your garden, or for whatever purpose you might have, you've come to the right place.
The Right Place to Learn How To Build a Shed
Virtually everything about how to build a shed is explained for you in our online guides with detailed graphics, actual pictures and advice that I have learned from building sheds professionally over the last 20 years.
The free building guides here cover all of the following:
Initial planning
Types of Foundations
Floor Framing
Wall Framing
Building Doors and Adding Windows
Roof Framing
Building Ramps and Adding Shelves
Finishing Touches
Types of Shed Designs
Don't know yet what type of shed you need to build? My information on shed designs goes into detail about which style offers the most storage space.
You'll also learn which type of shed is the easiest to build for those of you who just want to build a simple shed.

Barn Style Shed Designs Offer the Most Storage Space
If you aren't sure if you need a gable, saltbox, or gambrel style roof for building a garden shed, you'll learn about that too in the design information pages. Direct links to building plans are also included with each design listed if you want to get started right away with a great set of shed building plans.
Learning Center

Like Nailing Shed Trusses
Browse the learning center section to learn about things like how to use a speed square (my favorite useful tip!)to cutting angles for shed roof trusses.
Or the best nails to use for framing walls, or nailing down roof sheeting.
Maybe you need to figure out how to figure out the angles for building a ramp.
All sorts of tips and various odd shed building tidbits are included here for making your shed building experience hopefully an easier one.
Shed Plans
I am very proud of the storage shed plans and barn shed plans I offer. A great deal of time and effort has gone into developing each set of plans and I know you will be pleased at the value and quality of the plans you order.
These plans are cheap, chock full of detailed and illustrated building information, and come with complete building manual, blueprints, and materials lists.

Sample Shed Plan
I have plans for gable, saltbox, and gambrel roof style sheds that can be built for any number of purposes incuding garden and potting, motorcycles, tools, or lawn and garden equipment storage.
You'll also find plans for tool sheds, lean to sheds, and firewood sheds.
Included with your instant download will be email support from me about any questions you might have about the plans or construction methods covered. I am very pleased to offer this service for the low price I charge, but believe it or not, I don't get that many support inquiries and I feel this is because of the comprehensive nature of the plans for all the information needed to successfully build your own shed.
Maybe you are an individual who already has the basic knowledge of how to do just about everything to build your own shed and just need to get angles for roof trusses. I have truss plans for gable, gambrel, and saltbox sheds just for you.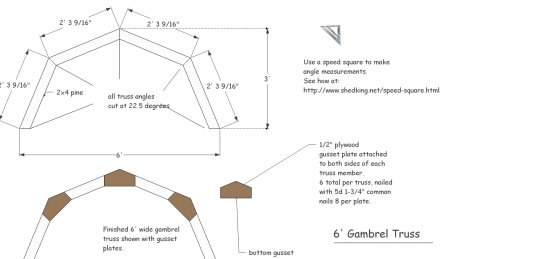 Sample truss plan
Testimonials from Customers
If you check out the right column of my site, you will see a featured shed under 'Your Sheds' from a recent shed plan customer. These are happy customers who graciously submitted photos of their newly built sheds for all the world to see. They get their own webpage on my site to share their building experience.
Your shed could be up there next! I'd love to see it so make sure you email me pics along with any shed building comments you would like to make.
I also have a separate page of pictures and testimonials and sheds from people all over the country who have built using our storage shed plans and small barn plans.

The Perrys built this nice 10x12
Gable style storage shed with my plans.
Building a Shed is A Neat and Worthwhile Accomplishment
Not only will you save yourself some hard earned cash by building your own shed, you will have an outdoor building project that you will be proud of for years to come.
This will also be a project that you will get many years of beneficial use from and one that you can say "I built it with my own two hands."
By John Shank, Copyright&copy Shedking.net 2004-2013.